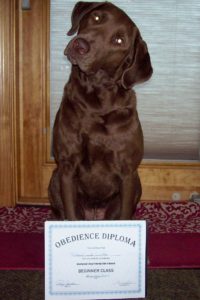 Monday was Storm's Graduation Day from her Obedience Class. I decided to enroll her in a beginner obedience class because we needed something to keep us busy this winter. We have so much snow on the ground that training for hunt tests is just not possible. Storm and Thunder can't spend all of their time wrestling in the snow.
The Beginner Obedience Class is a prerequisite to the Canine Good Citizen Class that I am planning to take next. Canine Good Citizen (CGC) is an AKC certification which requires the dog to demonstrate "good manners". The CGC Class works on intermediate obedience which is required for the beginner Rally Class. Information on the AKC CGC Program can be found here.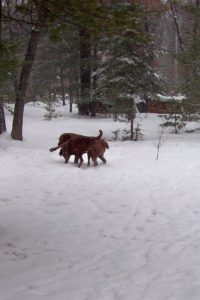 I hope to eventually enter Storm in AKC Rally trials. Rally Information
For the last day of Obedience Class I had to teach Storm a trick. The thing is our Chessies don't do tricks. We spend time training for hunt tests and she can fetch and retrieve, but she doesn't know "tricks".
I had a week to teach her….something. I decided to keep it simple and teach her to give paw. It wasn't as difficult as I thought. She picked it right up. She wasn't thrilled, but she did it. She even managed to look pleased when she demonstrated her trick for an audience in class. As you can see from the first picture, she was awfully proud of her diploma. Good job Storm!