The month of April has been busy, busy, busy for the two brown dogs.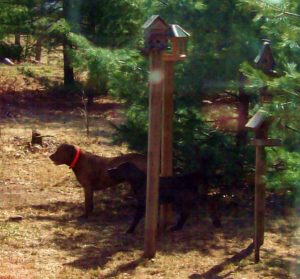 In early April we decided to take a trip to see family in Illinois and attend a dog show there.  The show was supported by our national Chessie Club which meant there were a lot of great dogs attending and prizes in addition to ribbons.
Thunder still needed a major win toward his championship (this means a win against enough dogs so that he earns at least 3 points).  We figured there would be enough dogs entered so we would try our chances, and the Judge liked Thunder last year.  We also figured it would be a good time to get Storm in the show ring.
Off we went with our two brown dogs to Illinois.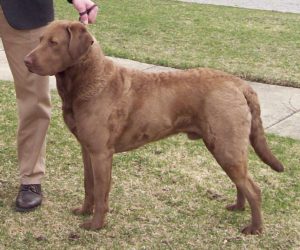 The trip started off badly.  It was miserable, rainy weather which made driving tough.  Then in Indiana the highway was closed completely because a truck crossed the median and caught on fire.  Unfortunately, it happened just ahead of us so we could not exit and were stuck for more than an hour.  The two brown dogs got a little antsy stuck there on that highway.  Once we got to Illinois the weather improved some, but the traffic did not.  There had been an earlier truck roll-over and Easter hams were scattered all over the road, which closed it for a time.  Luckily, because we were stuck in Indiana, by the time we got to Illinois, the mess was mostly cleaned up, the truck up-righted, and the road was open.  However, we were thinking our trip was not starting well.
The next day was the show.  The weather was beautiful.  We headed out for a nice drive through farmland to get to the show.  Just as we thought, there were a lot of great dogs entered.  Thunder looked great in the ring and moved very nicely.  He did not win, but he did get Reserve Winners Dog, which was a wonderful placement for him.  Reserve Winners Dog is like runner-up.  🙂  Unfortunately the prize he won did not come in so we did not get it at the show and it will be shipped to us.  We did not take a picture at the show, but took one once we got home.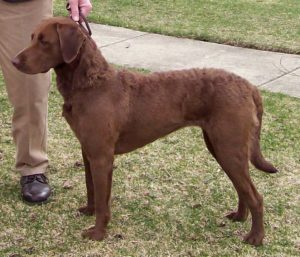 Storm did well in the show too.  She has had very little show experience and it was a new place with a lot of dogs.  That could have been a bit overwhelming for her, but she did just great.  Unfortunately, she had blown her coat a couple of weeks before the show and she still looks very immature compared to the other females entered so she did not win her class.  Still, she moved very nicely and got a 4th place ribbon in a big show.  Good for Storm!
 When we got home, there was no time for resting.  We were training for the AKC Canine Good Citizenship Test.  The test is a basic obedience test which evaluates the following 10 things:
Test 2: Sitting politely for petting
Test 3: Appearance and grooming
Test 4: Out for a walk (walking on a loose lead)
Test 5: Walking through a crowd
Test 6: Sit and down on command and Staying in place
Test 7: Coming when called
Test 8: Reaction to another dog
Test 9: Reaction to distraction
Test 10: Supervised separation
A passing score on all 10 tests earns the dog the "Canine Good Citizenship" Certification.  We practiced, practiced, practiced to make sure  both dogs had the tests down cold.
It paid off because both passed!  Yay!
The last weekend of April found both brown dogs at yet another dog show.  Storm did great and got a pretty blue ribbon for winning her class.  Thunder got Winners Dog and Best of Winners which gave him his second major win toward his championship.  He just needs a couple of points to finish up.
Now that Spring is finally here, hunt test season calls so although we are entered in a couple of shows, we will be spending most of our time hunt test training.  No rest for the two brown dogs!