Since Storm has come into season, several of you have asked how we keep Thunder and Storm separate during this time.  It would be nice if we had a nice big, heated kennel building to keep Thunder during these three weeks, but we don't. 🙂  We could leave him outside in his kennel run (because it isn't that cold yet), but he is a "people dog" and it isn't fair to banish him.  So this is what we do, not perfect, but it seems to work for us.
We air Storm on lead in the front yard well away from where we air Thunder, which is in the back yard.  We keep them totally separate.  Storm is in the computer room in the front of the house and upstairs in the bedroom.  Thunder is in the family room/kitchen.  Now here is something I probably could have included in yesterday's post of 10 things that you don't know about the 2 brown dawgs.  From the time Thunder and Storm have been wee pups, we have always kept them from roaming around the house by using boards to block off the kitchen/family room from the rest of the house.  We talked about getting baby gates, but could never find anything that we thought would work in our house.  The boards are not high so the cat has a safe place by just jumping over them.  Both dogs respect the boards, meaning that they could easily jump over them, but they don't.  We can segregate them by just moving the boards to block off a room and they respect that boundary.  Of course when we are not in the area keeping an eye on them, they are crated.  We trust they won't go over the boards, but nature can sometimes trump obedience and we sure don't want "oops" puppies.  🙂  We talked about getting rid of the boards because both dogs understand boundaries without them, but now there will be a puppy, so I guess they are here for a bit longer.
Of course Thunder still knows Storm is in season and there is a period of time that is very hard on him.  For that time, we try to get him out of the house to do something fun.  Today Thunder is going out for some grouse hunting, (weather permitting).  Thunder saw the hunting stuff being readied and any thoughts of girls went right out of his head.  The stuff is not going without him.
This is a picture of puppy Thunder and to this day he still camps out on the hunting stuff.
Storm is mostly stuck in the house, but we try to walk her and she might get out to run a bit in a fenced schoolyard nearby.  Next week will be able to go back to Saturday training, (still keeping them separate, but they will be OK near each other crated in the car).
Now some new puppy pictures.  Day 17-Thursday.  Cindy reports: "eyes are open and they up on their feet, unsteady but up".  Pictures and captions courtesy of Cindy. 🙂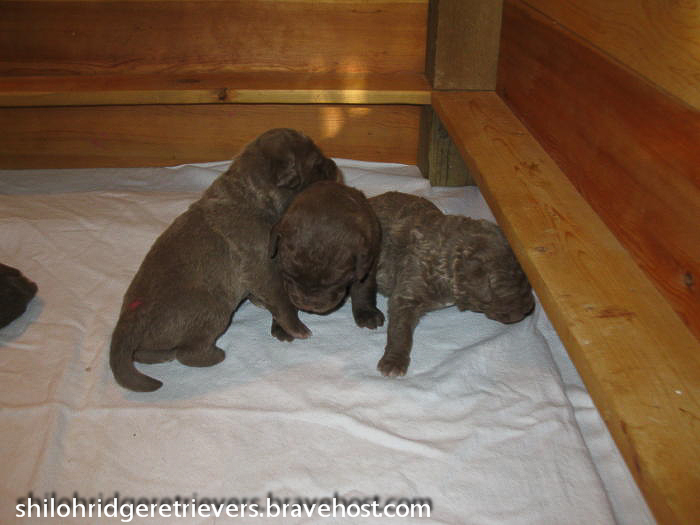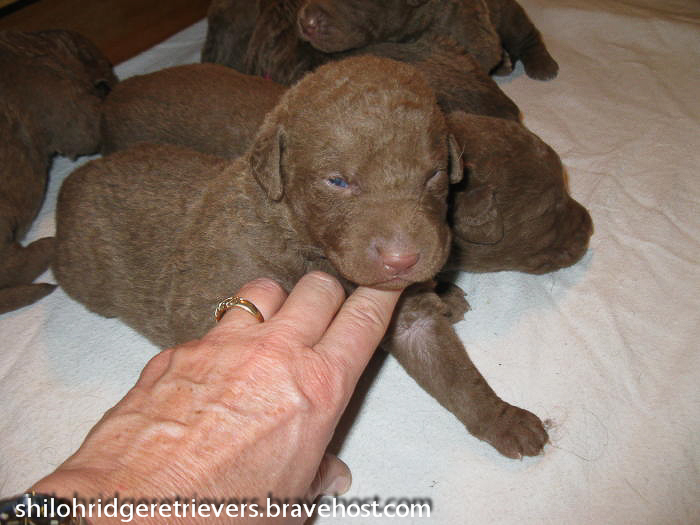 This last picture is the best.  Poor Smokey looks overwhelmed.  😆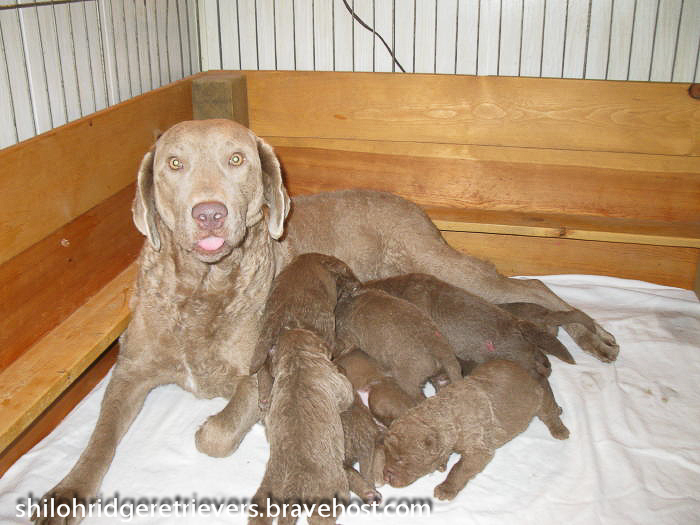 Thanks for the great pictures Cindy!