Two of the clubs we belong to awarded Thunder and Storm plaques to commemorate their new titles.  It is really a nice thing these clubs do for their members.  The larger plaques are from Michigan Flyways Retriever Club for their Senior Hunter Titles. Every member who has earned a field title the previous season was eligible for a plaque.   These plaques have a spot to put a photo.  I just haven't ordered the pictures yet.  🙂  The smaller plaque is from St. Clair Flats Hunting Retriever Club.  Thunder and Storm received a certificate for their Started titles, but Thunder received this nice plaque for his Seasoned Title.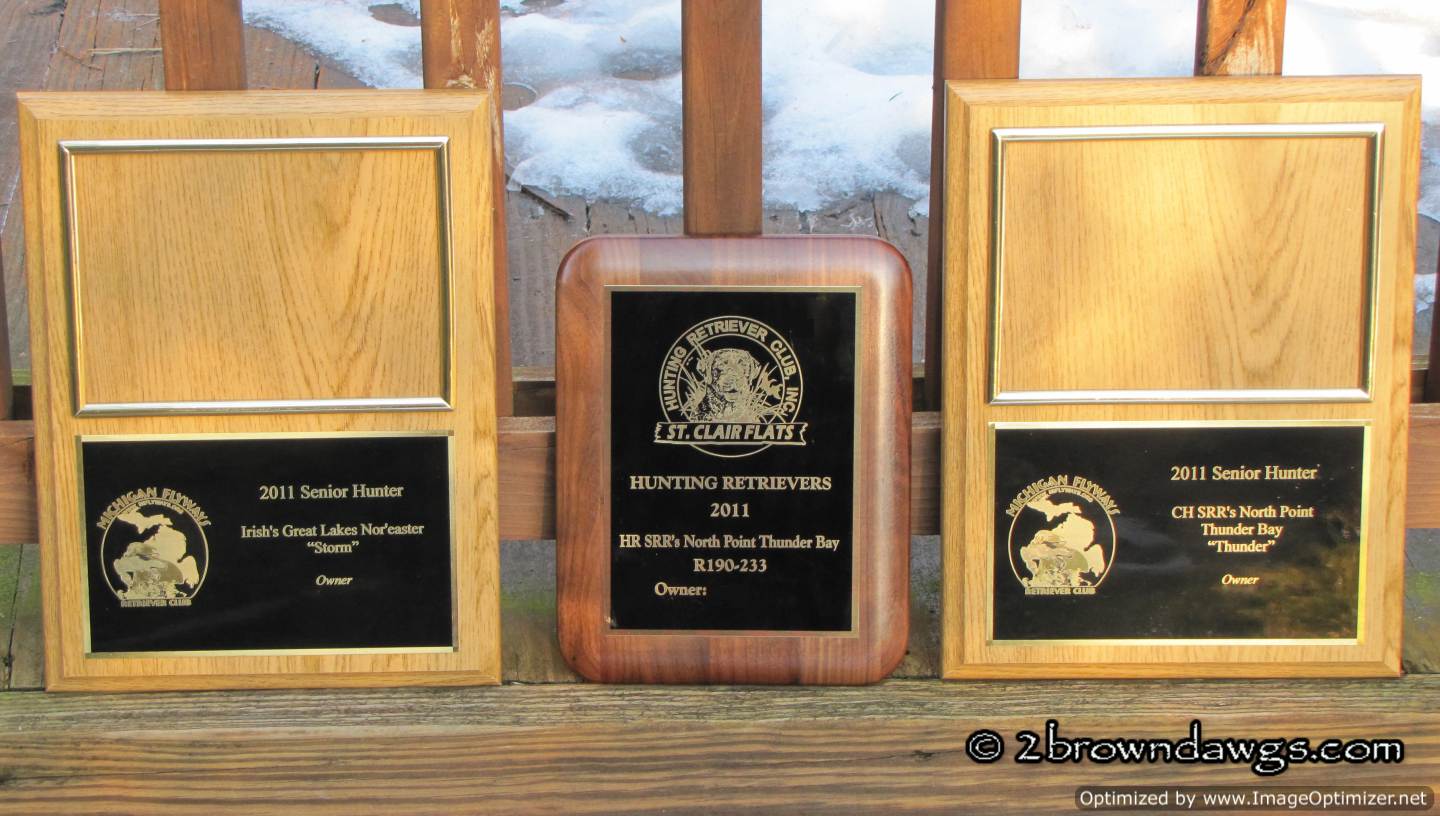 And now to follow-up on some questions and comments:
thatjenk asked about Freighter and Thunder's color and whether Freighter was more reddish than Thunder and if he would lighter up as he matured.  Chessie coloring is always a shade of brown from light browns (dead grass), to faded brown (ash or tan), to dark brown.  A very good explanation on Chessie coloring with pictures is here.
Storm is more of a red-brown.  In sunlight you can see shades of red in her coat.  Maybe you can see it in this picture?
Thunder is a medium brown, but he carries the dilute brown gene which gives a silvering to his coat.  We know he carries the dilute brown gene because when he was bred to an ash/tan dog some of the puppies were ash/tan.  The dilute gene is the same which causes graying of the brown in Weimaraners and fawn in Dobermans.  (Source Chessie Info)  Thunder's coat can look brown/silver in some light and just medium brown in other light.  Maybe you can see the silver in his coat in this picture.  It was taken with a really good camera.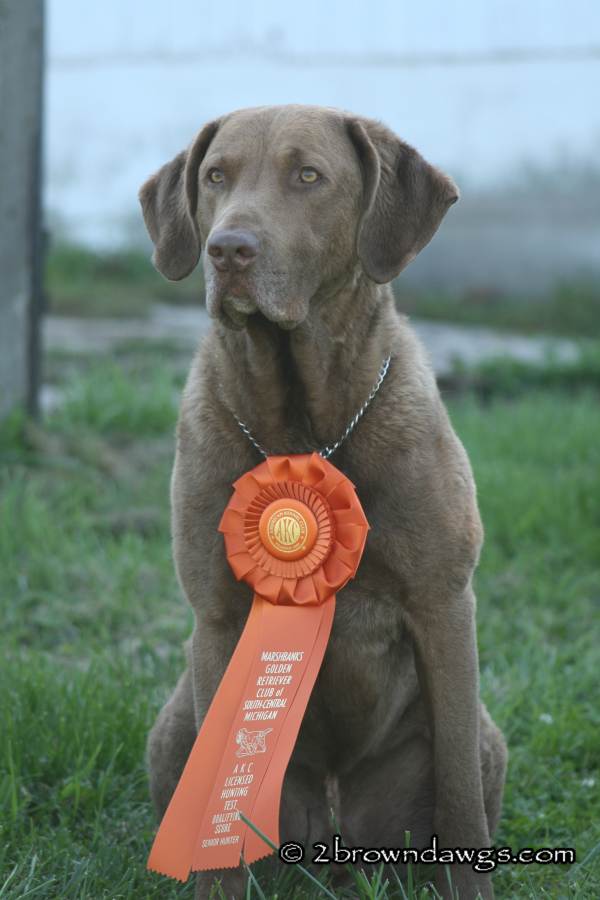 This brings us to Freighter.  He was a darkish brown when he was born.  However, as he is growing and his coat is changing to his adult coat, there are some lighter areas.  It could just be the changing of his coat.  Chessie coats can lighten just before they are going to shed them.  Or it could be that he may have some lighter areas in his coat.  That is possible because his mother was tan and his father was a lighter brown.  I guess we will have to wait and see.  This is a picture from yesterday.  It was almost too bright outside for pictures.  I was trying to show how his tail and back-end have some lighter fur mixed in.  If you look close, you might see it.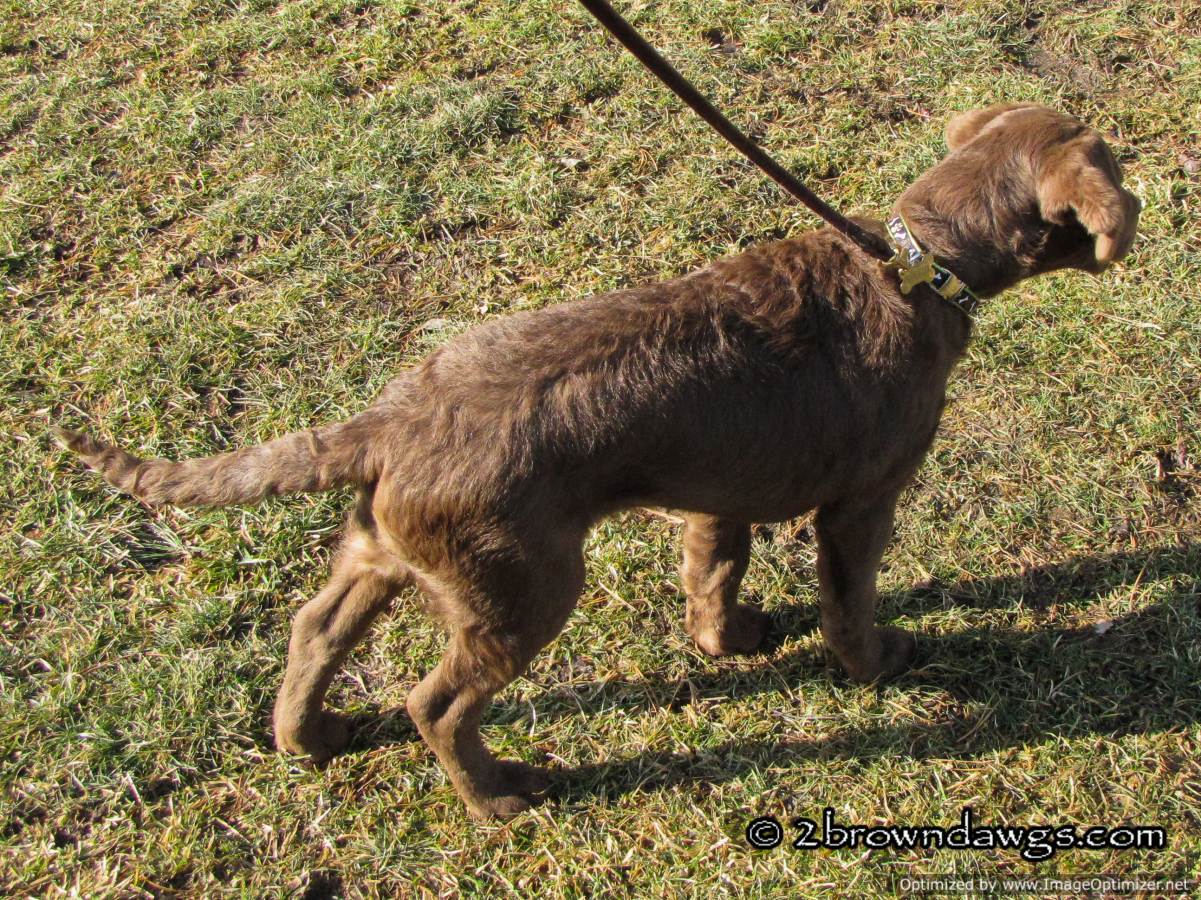 This is a picture from last Saturday in more muted light.  You can see that he is just a brown without the silvering (yet) and no red like Storm.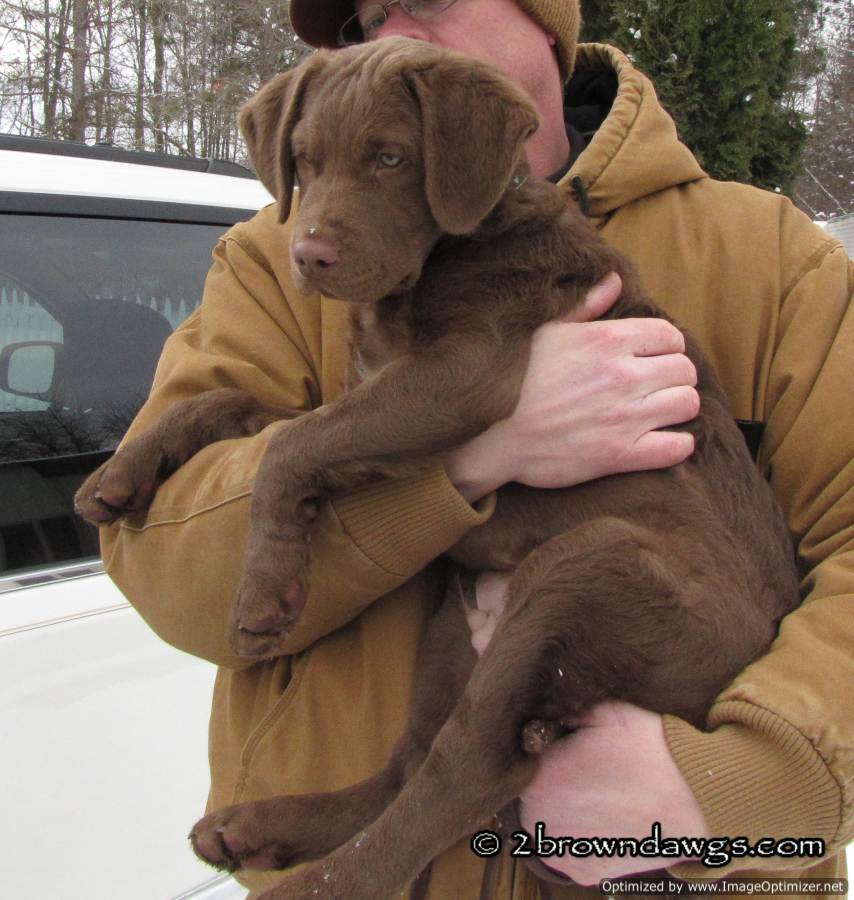 On yesterday's post, Anna asked whether we have ever seen a young dog pick up more than one bumper at a time from the piles.  The answer is yes, all of the time.  Usually our trainer doesn't correct for this.  His thinking is that when the dog is running a test, there is only ever going to be one duck out in the field so there will be no option to pick up multiples.  He likes to keep the dog's enthusiasm up when training handling and wants the dog to have success.  When sending a young dog to its first cold blinds he will sometimes salt the area to make sure the dog gets a bumper.  The success is the key.  Again, there will only ever be one duck at a test so he is not concerned that the dog will go shopping at a test.  The only time he may correct for picking up multiple bumpers is if it becomes clear that the dog is messing around and wasting time, but I have never seen that.  Good luck with your training.
I think I tricked many of you with my Wordless Wednesday picture.  I didn't mean to.  🙂  That was actually Tattoo who belongs to Freighter's breeder Cindy.  Tattoo came out blurry because he was moving fast!  We have kept Freighter and Nestle apart mostly.  Freighter seems to have quite a bit of prey drive and he needs to understand that Nestle is part of the family.
Many asked about Storm's upcoming breeding.  We co-own her with her breeders.  The breeding will be their breeding, not ours.  They are responsible for obtaining her health clearances and the expense of the litter.  They will do all of the work and place all of the puppies.  Breeding would just be too stressful for me.  I am not a breeder (although I enjoy learning about it).  Co-ownership is not for everyone; however, in a breed like ours where there are not that many breeding dogs, it is one way that to help preserve the gene pool.  It was never a given that Storm would be a candidate to be bred, just that her breeders had the option if she turned out to be the kind of dog that they wanted for their breeding program and her health checked out.
We hope to train again tomorrow.  I know I am behind in reading/commenting on your blogs.  This turned into a busy week.  I really hope to catch up tonight.  If you have a chance stop by and wish our pal Bert well because he had to have emergency surgery for eating half a tennis ball.  This was very serious stomach surgery.  Take care Bert!  We are rooting for a full recovery.
Have a great weekend!