It was cold, cloudy, windy with snow flurries for our Saturday group training.  It didn't discourage the group because a good number of us turned out despite the weather.  We were finally able to get out into the back field to train.  It is still mostly snow-covered.  Partly because it has not warmed up enough to melt the snow off, and partly because they got some fresh snow.
This field has always posed trouble for our dogs, especially in Spring.  It is tree-lined on two sides and something about those trees tend to suck the dogs right in.  I guess there are some good smells in there, especially in Spring.
The first set-up was to the right of the field.  The Master level dogs watched a mark thrown from the right to the left, but they did not pick up the mark.  Instead, they ran a blind that was set close up along the tree line to the right.  Once they completed that blind, they picked up the mark.  But they were not done.  They had to run a blind past the closer blind, and past the spot they picked up the mark, all the way to the back corner of the field.  That back corner makes for a long blind of 100+ yards.
Here is my crude diagram: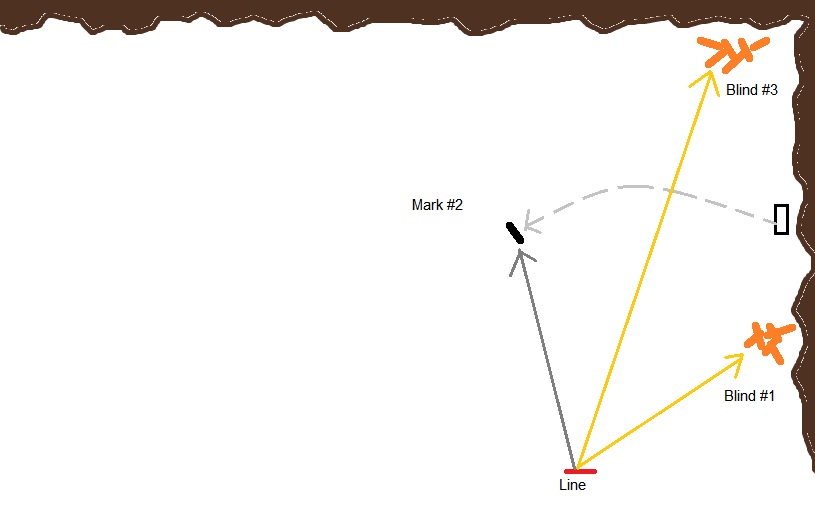 There are several challenges with this set-up.  The blinds are set right at the edge of the field and next to the tree line.  As I said, those trees can tend to draw some dogs into them.  The Master level dogs watched the mark but did not retrieve it and were sent to Blind #1.  You have the mark pulling them left because they want it rather than a blind they cannot see.  This makes Blind #1 more difficult.  Once the dogs have run Blind #1 and Mark #2, they then have to run past both areas to the back corner of the field.  Anytime you run a blind under the arc of a mark or past areas where they have already picked up a bumper, it makes the blind more challenging.  Blind #3 was under the arc of Mark #2 so that added difficulty and was a good way to work on control.  One more added challenge with Blind #3 is the distance.  When the dog gets out there 75 or 100 yards, handling becomes much more challenging.  Our dogs definitely need to work on long blinds, both land and water.
One more benefit to this set-up for the Master level dogs is that it helps work on steady because although the dogs watch a mark fall, they are not sent to retrieve it.  Instead they are turned to run a blind.  This is something we have been working on with Storm and Freighter.  They both want to break (leave before they are sent), so when we run any type of marks, their handler waits several counts before he sends them.
Storm is training for Master level tests so she ran this set-up.  She needed a couple of casts to get to Blind #1, did fine on Mark #2, and needed a couple of casts to get out to the Blind #3.
Some pictures of her working.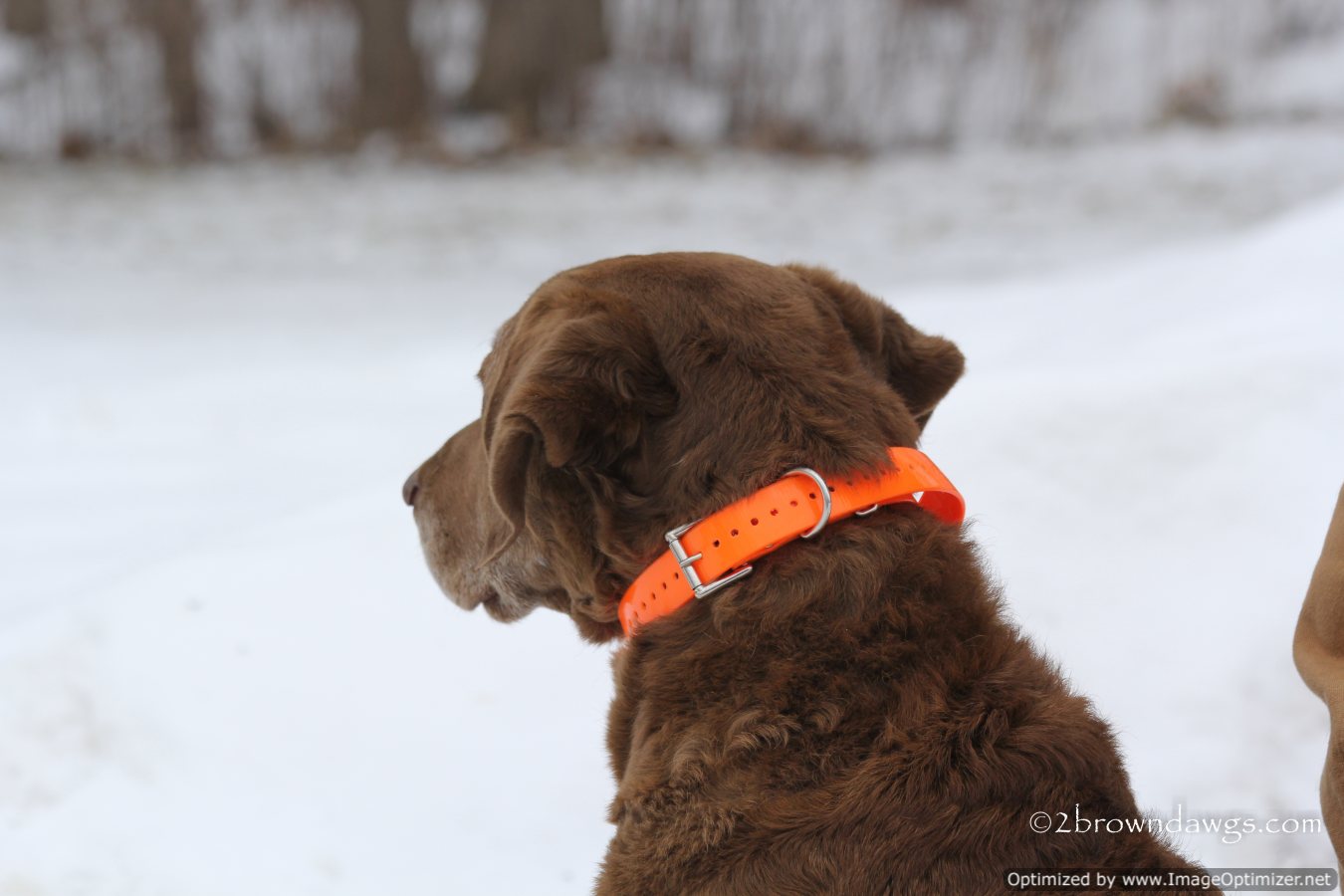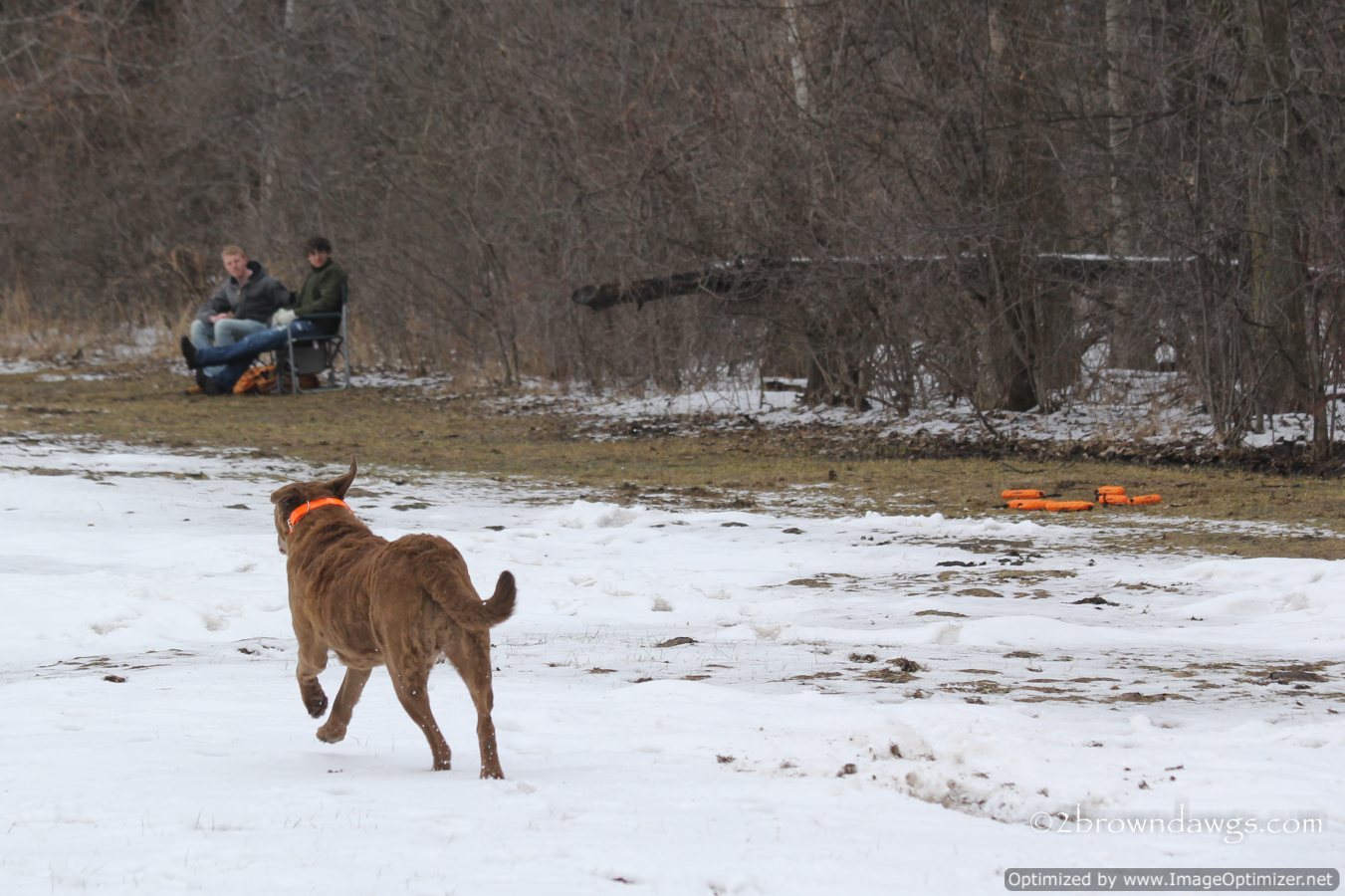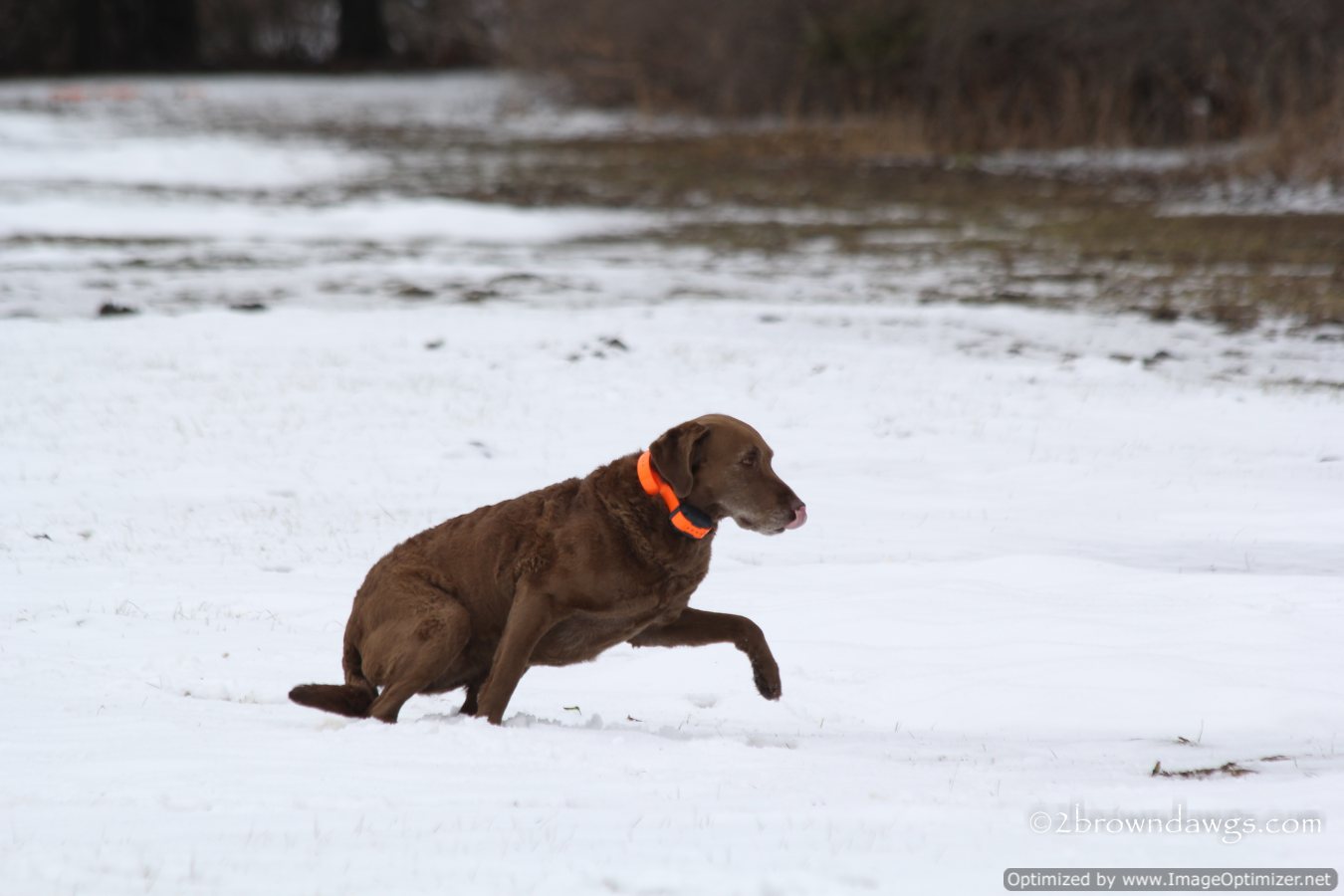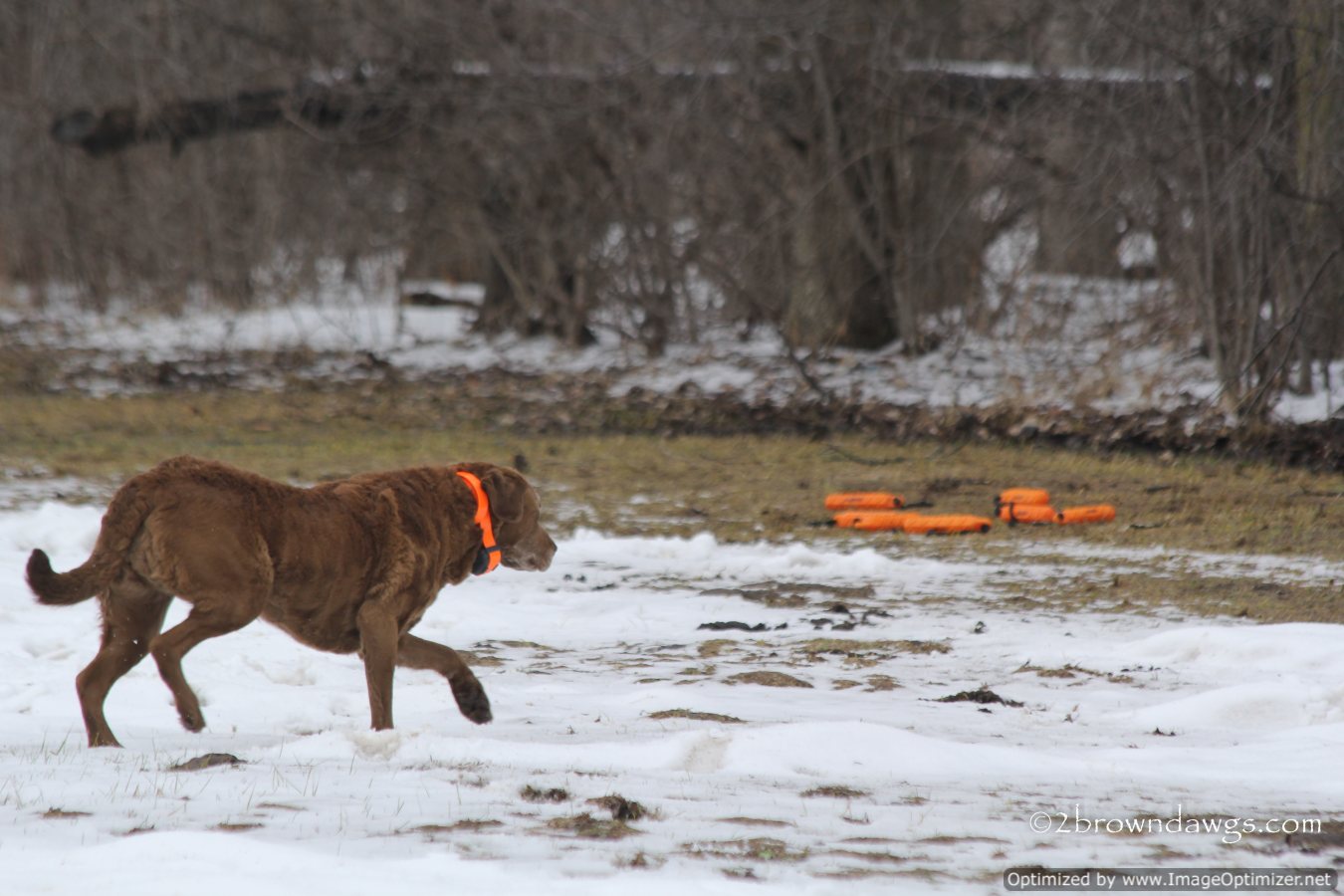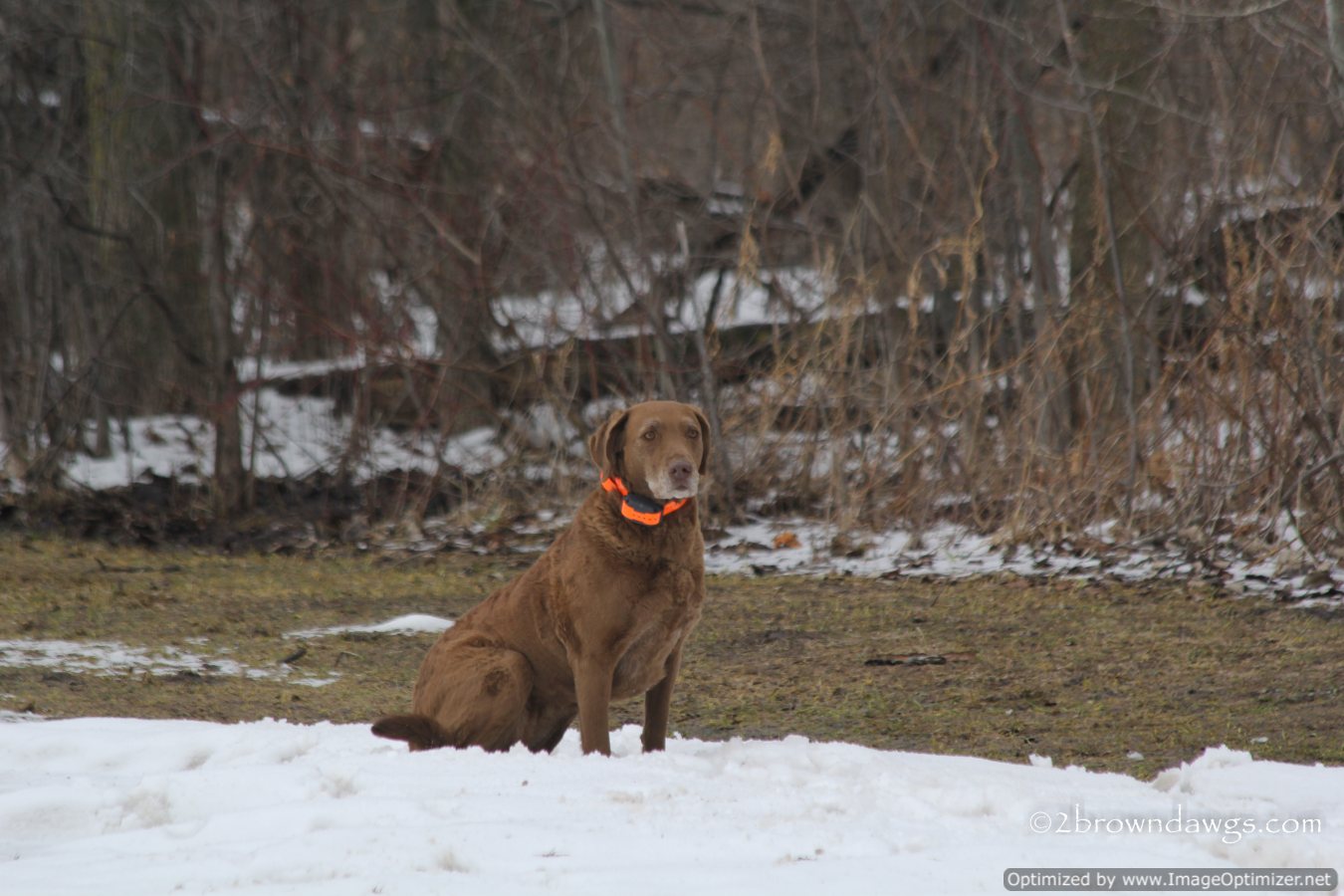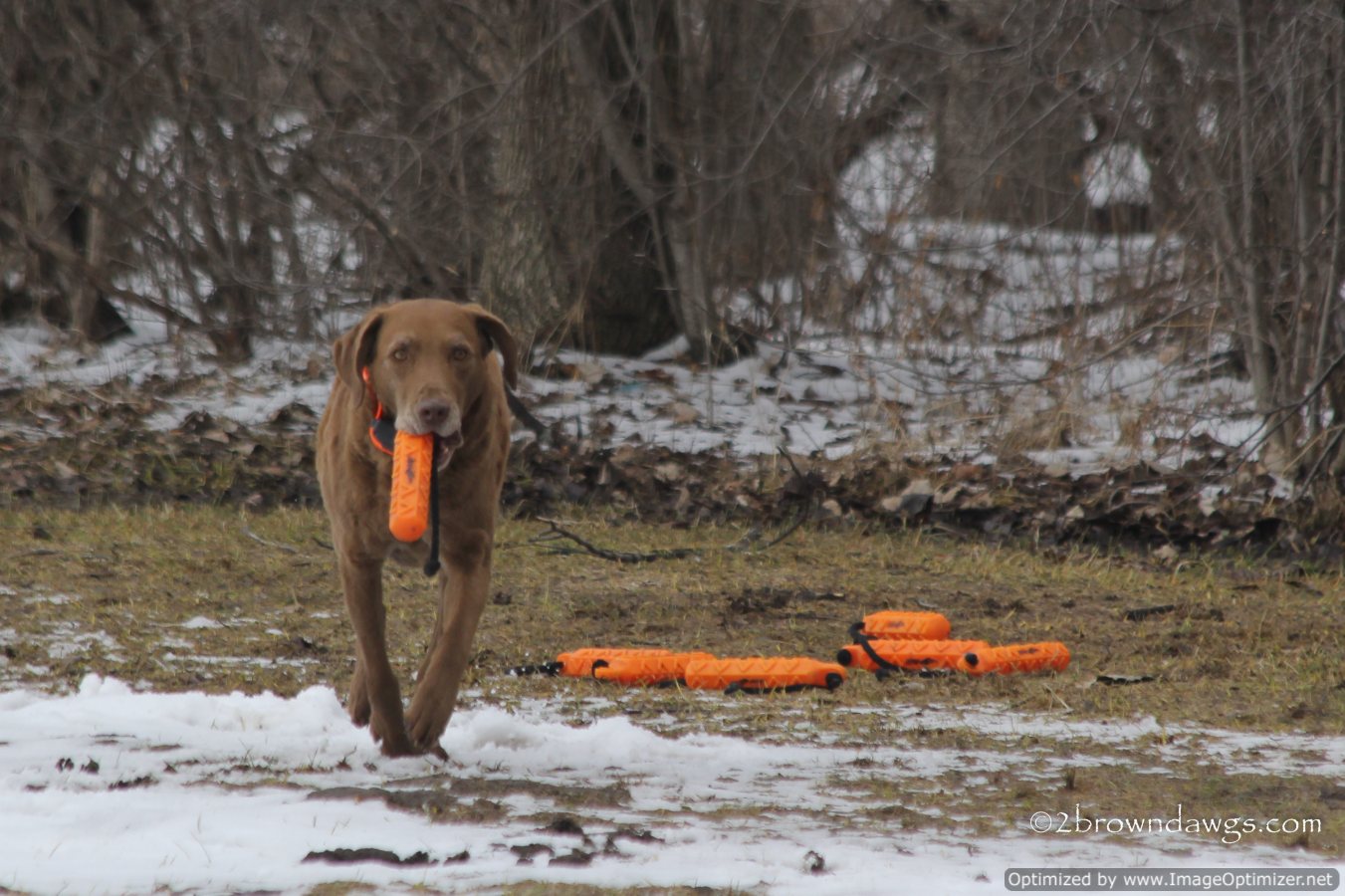 Blind #1 complete, it is time to retrieve the mark (Mark #2 on my diagram).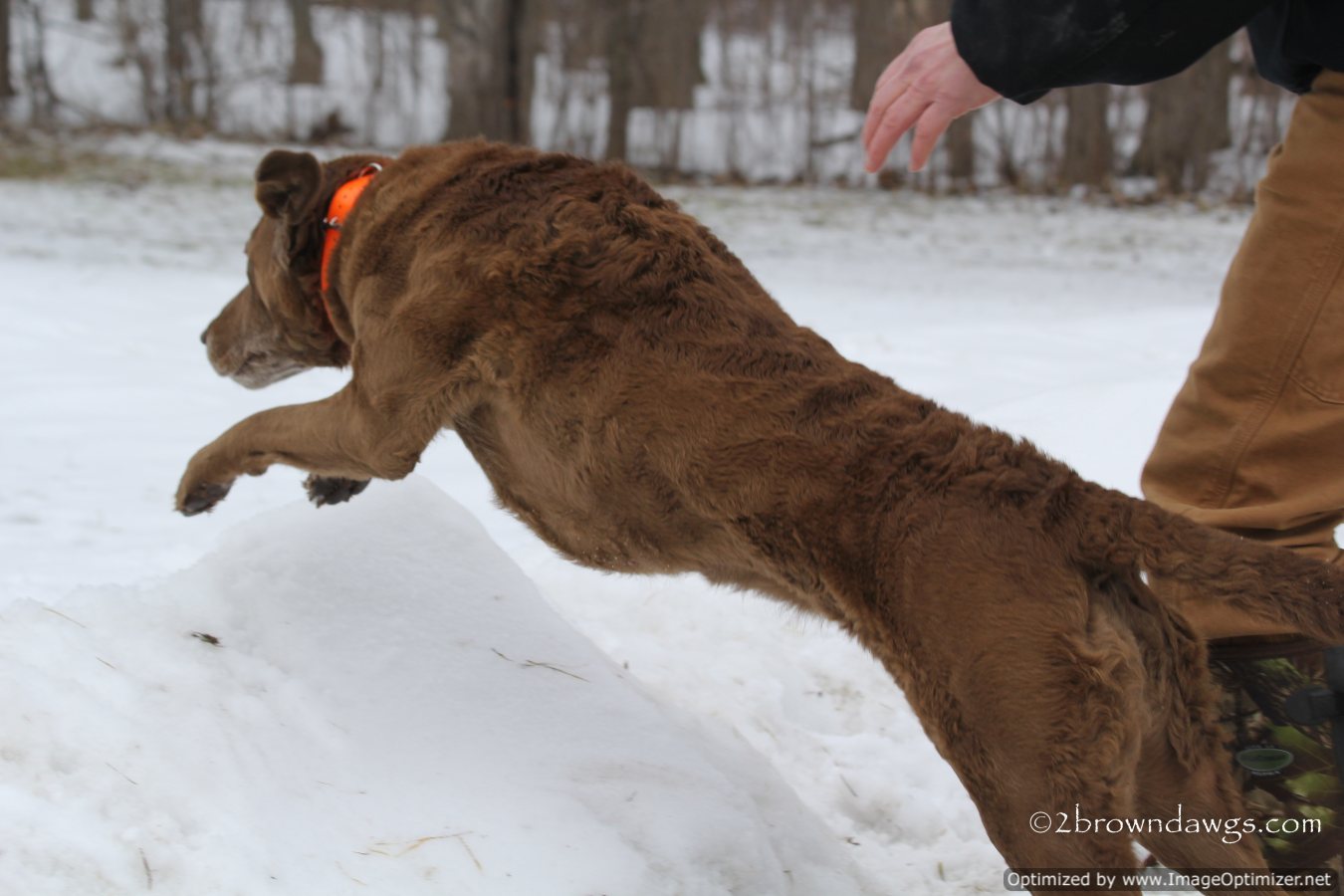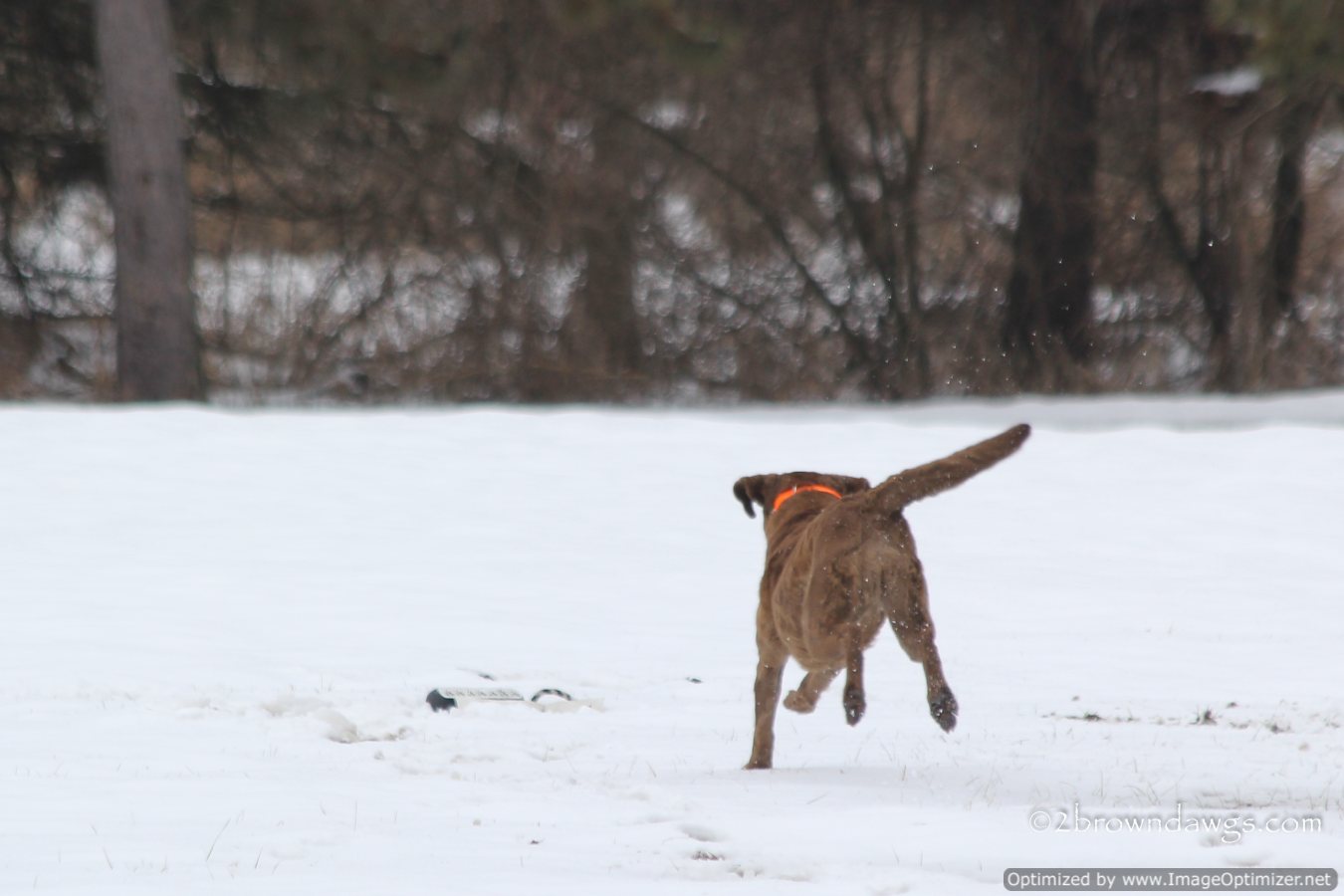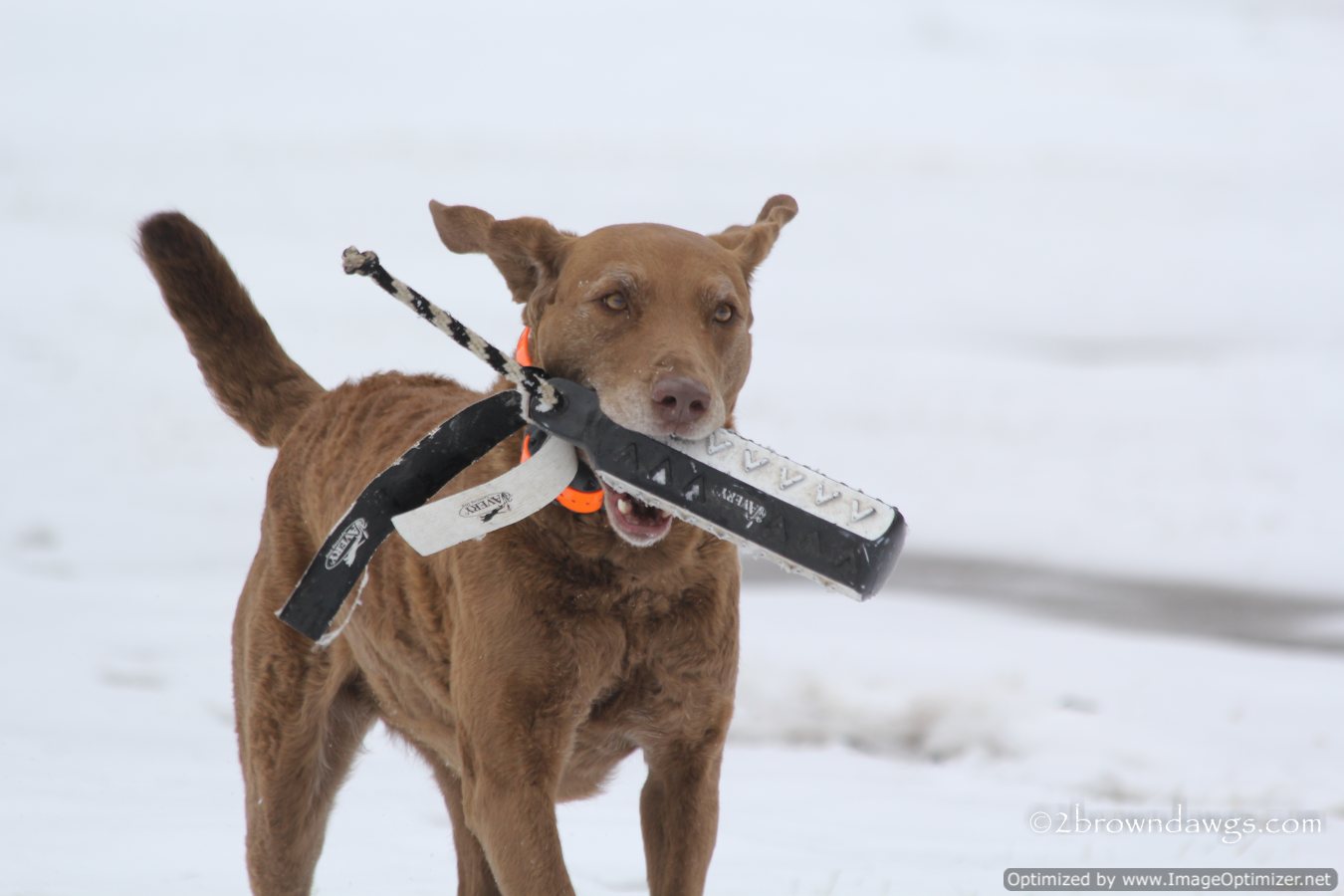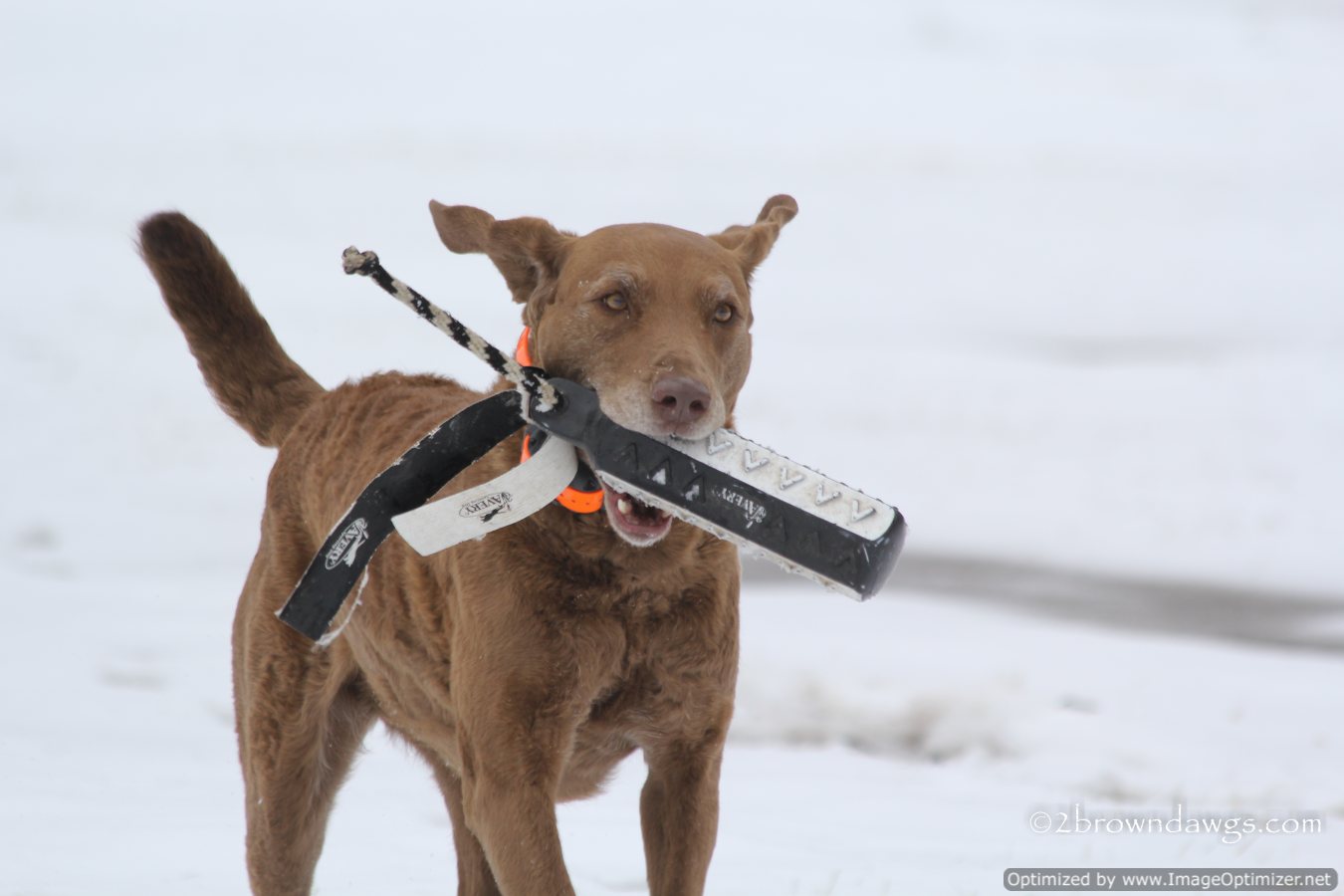 Blind #1 complete.  Mark #2 complete.  All that is left is Blind #3.  Storm took a nice line past the closer pile and the area where the mark had been.  Once she got farther out in the field, she needed some casts to get her to the pile of bumpers in the far right corner (Blind #3).  She did a decent job of taking these casts.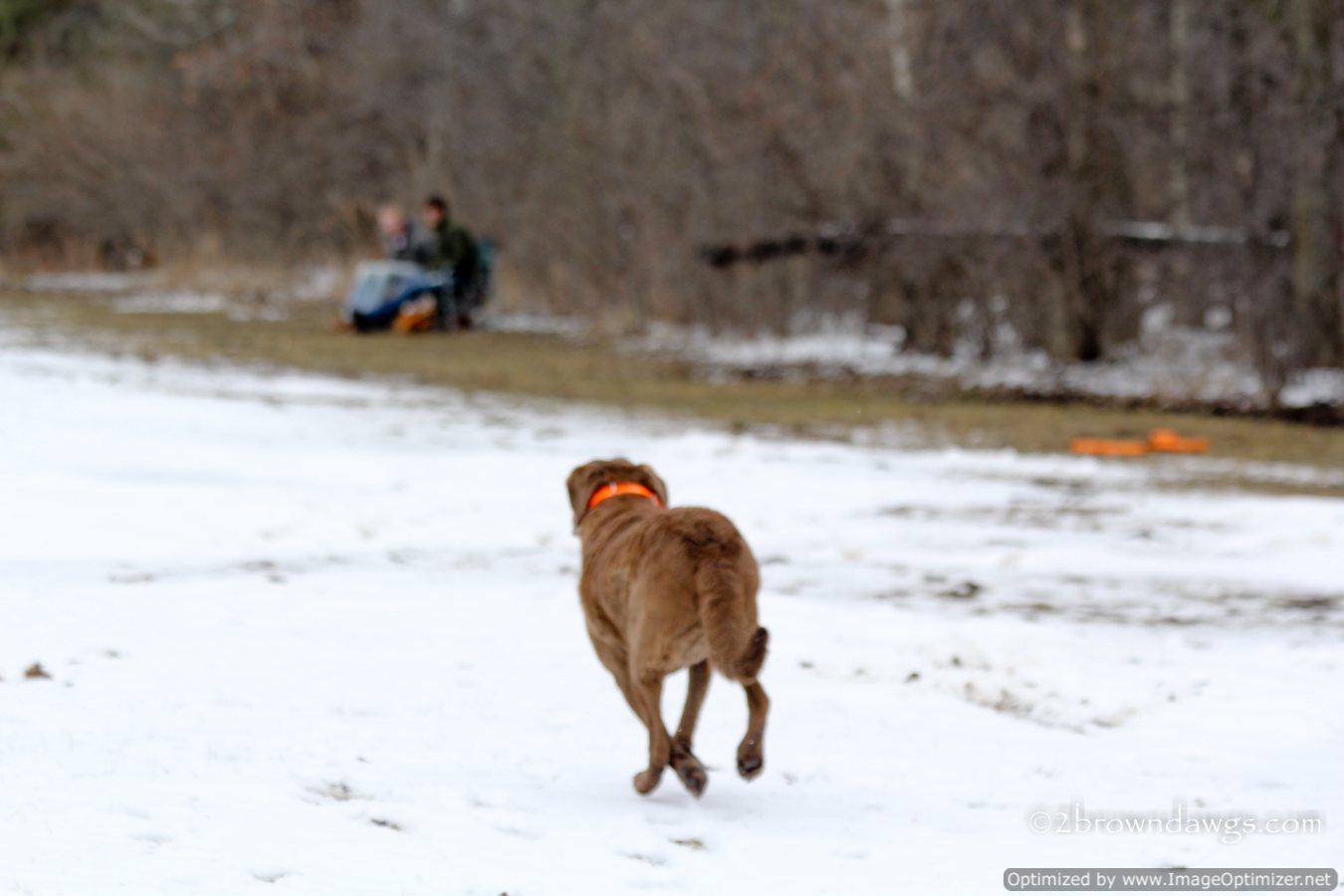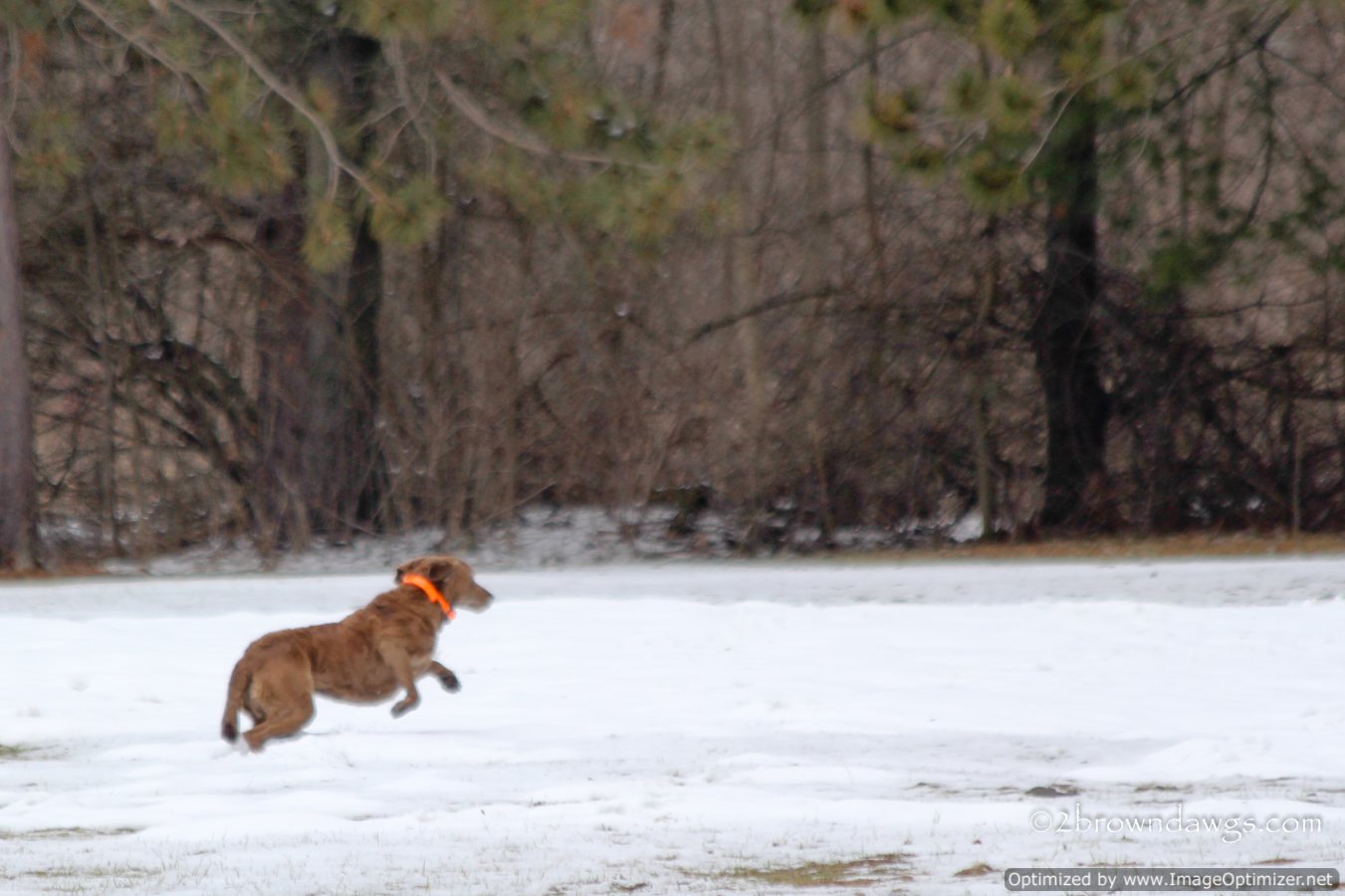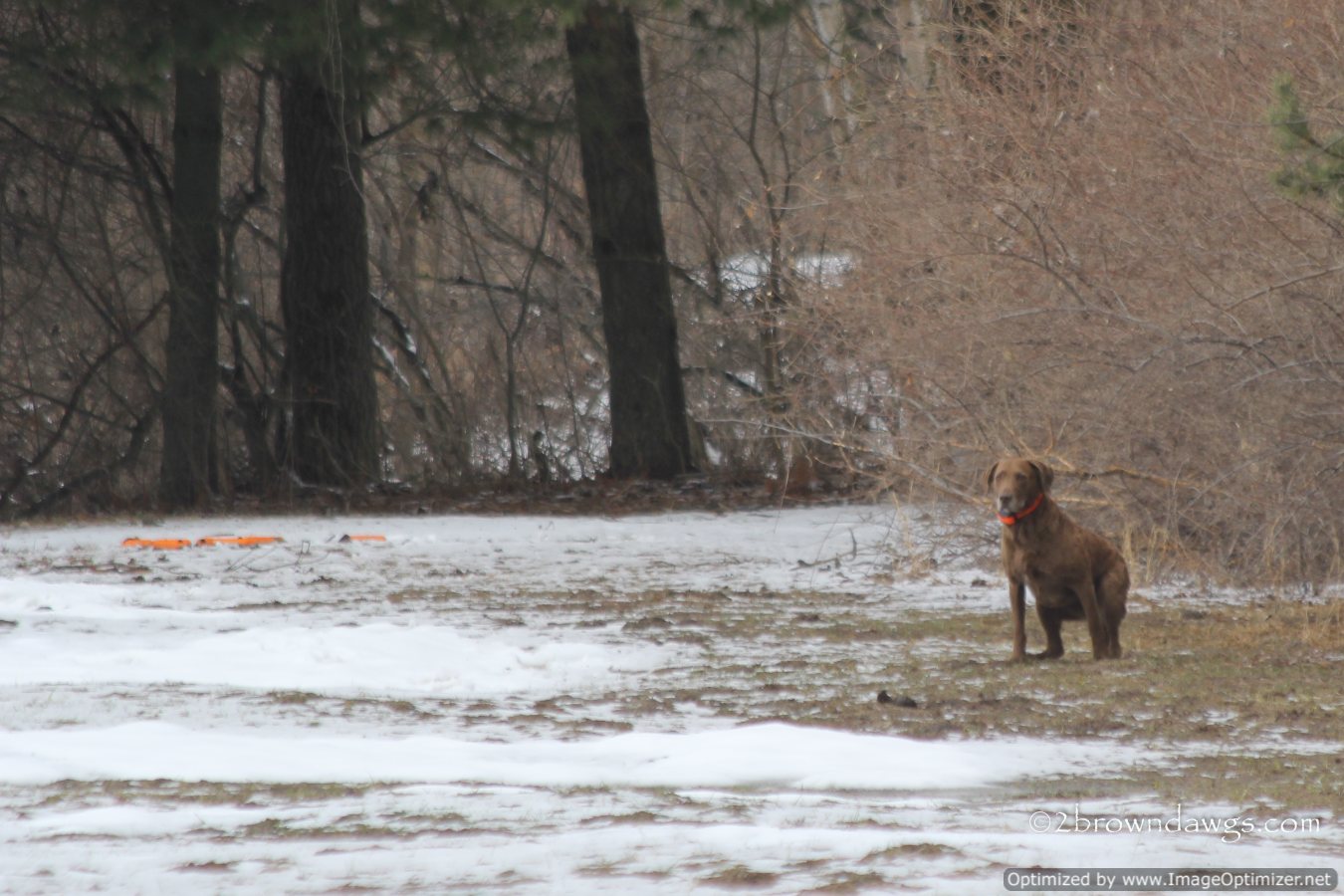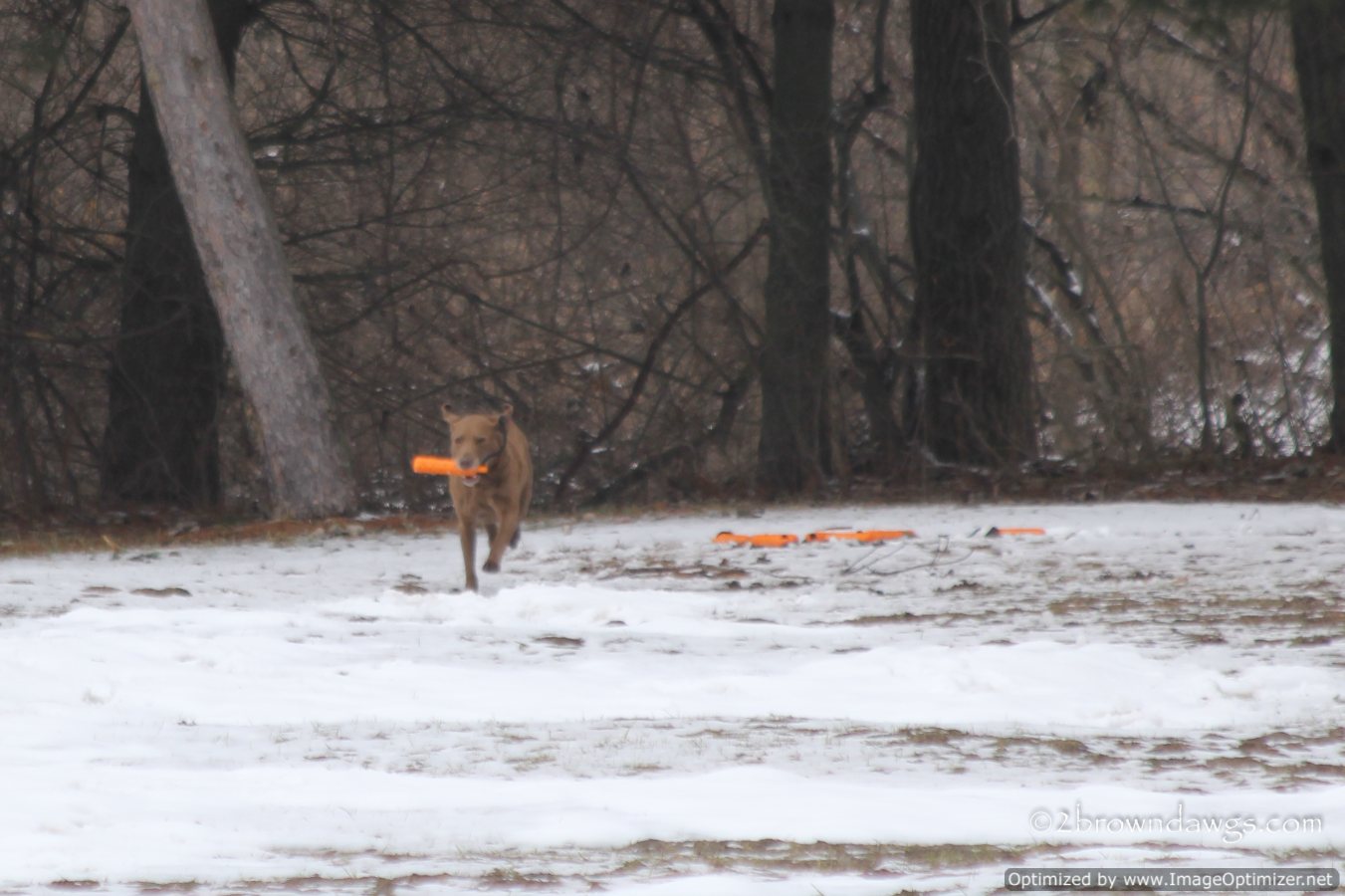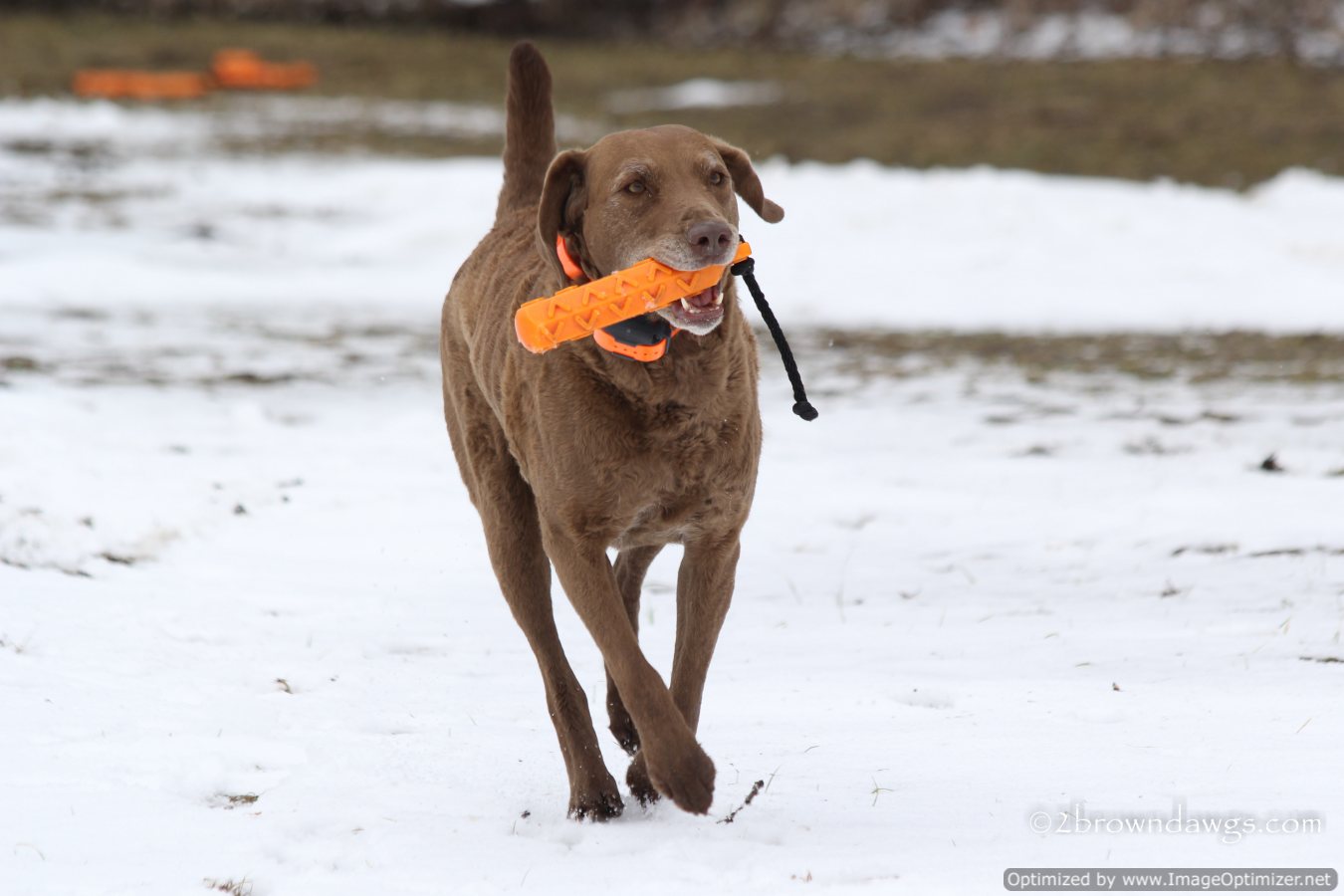 Long blinds, both on the land and on water, are a weak spot for Storm, so we will be working on a lot of these in our training.  However, for not doing many long blinds over the winter, Storm did a decent job with this one.
Freighter ran a modified version of this set up which will be tomorrow's post.
The second set-up was to the left in the same field and Storm blew up on the long blind.  I will have that run later this week.