Saturday is the Mid-zone waterfowl opener.  This is the day Thunder waits for all year long.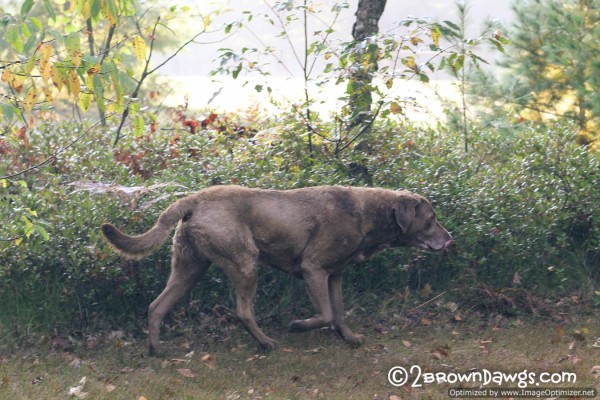 For the opening day, he will be hunting wood ducks on the river.  Wood ducks like marshy areas and areas near rivers where there are a lot of trees.  Did you know that wood ducks can actually perch in trees?  Once the trees lose their leaves the wood ducks start to migrate south.  That is usually a couple or three weeks into our hunting season.
Thunder doesn't care what he hunts, he just likes to get out and do it.  Wood duck hunting means sitting on the edge of the river waiting for the wood ducks fly fast and furious down the river in the morning.  It helps to have a nice steady dog.  Not only is Thunder the senior dog, he is steady so he gets to go first.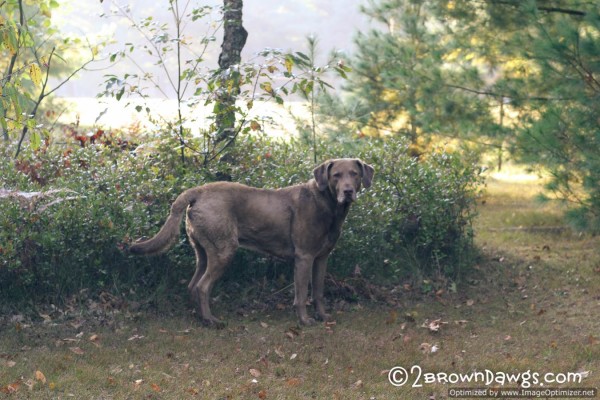 The other dogs will have their chance to hunt next week too because we will be on vacation.  Hopefully there will be a chance for some grouse and woodcock in addition to waterfowl.  Hubby hopes to try out a couple of new hunting spots too.
I have a few posts scheduled for next week: Tuesday, Wednesday and of course Thursday Barks And Bytes.  I would love to post an "Opening Day" report on Monday, but that really depends on whether I have enough internet access to make it work.  I can usually post to Instagram, Facebook and Twitter, so look for pictures and updates on the brown dawgs' vacation fun there.  You can find links to our social media in my header and in my sidebar.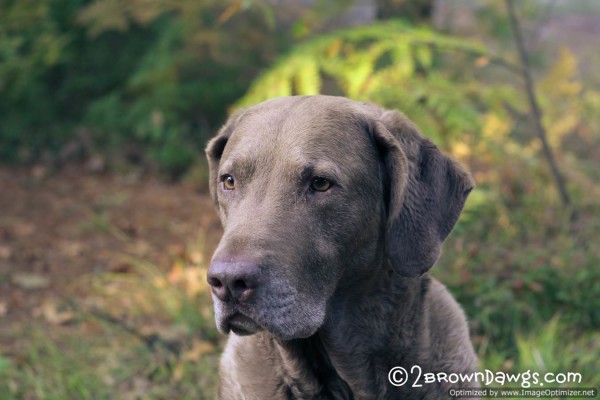 Speaking of my sidebar, I put the discount code and a link to the Three Dog Bakery on my sidebar (just click the picture to access their website).  I won't receive any compensation if you decide use the link or the code, but if you want some yummy Fall treats or any of their other "Made In The USA" treats, you definitely want to take advantage of the discount.  The brown dawgs reviewed some of their new treats and really liked them.  You can check out our review here.
Did you know that October 1-7 is National Walk Your Dog Week?  Come back tomorrow because I will be sharing some walking tips and joining Cascadian Nomads and My GBGV Life for their special Walk Your Dog Week hop.  Friday is also FitDog Friday and we all know that dog walking is a great way to get out and get moving.
This is the Thursday Bark And Bytes Blog Hop hosted by 2 Brown Dawgs and Heart Like A Dog.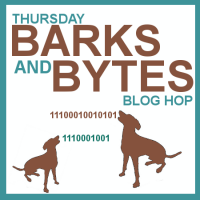 For those of you who are new or unsure about Blog Hops–they are a great way to connect with other bloggers.  Don't be shy about stopping by other hoppers to say "hi".  You just might gain some new readers for your blog.
The Barks And Bytes hop is open for all topics; however, Jodi and I ask that if you want to participate in the hop, you either share the linky list, or link back to one of our blogs.  While you are at it, don't forget to grab the Barks And Bytes badge and display it in your post or on your sidebar.
Thanks so much for participating in The Thursday Barks And Bytes Hop!