Storm and Nestle have always been pals.
We got Nestle 8 years ago this month.  She was a rescue available for adoption, but living in a cage at the local Petco.  Hubby and I went there to pick up something for Thunder when we spied Nestle.  She looked pathetic in the cage and the person from the rescue said she was not doing well in that environment.  Something swept over us.
We filled out an application and were quickly approved.  We picked her up that same afternoon.  She was about 16 months old at the time.  Since we planned ahead we had all kinds of things for a new kitty.  We had nothing for a cat and had to shop at the Petco for the necessities.
We brought her home and then we did not see her for about 2 weeks.  No kidding.
We set up a litter box and food and water in our living room.  We didn't really use our living room so we thought it would be a good place for Nestle to get accustomed to her new home.  She could come and go as she pleased from there or be quiet and alone if she wanted.  You know how some cats are?  They like to be alone.  We weren't sure if Nestle would be that kind of cat.
Everyday we would put out food and fresh water.  We never saw her, but we knew she was there because the food disappeared and the litter box was used.  I think she spent the first week under the couch.
Finally after a couple of weeks she started to come around more.  She did not like Thunder much.  He was still a puppy, but a big puppy, and she was intimidated by him.  He just wanted to sniff her, but she did not trust him or appreciate the sniffing.  She kept her distance from him. They learned to ignore each other.
At the end of August of that same year we got Storm.  Nestle and Storm hit it off right away.  Storm was just 8 weeks old when we got her so closer in size to Nestle.  Eventually Storm grew up but that did not matter to Nestle.  They like to play together.  Nestle bats at Storm and Storm lets her.  After Storm had her pups and she was missing them, she treated Nestle as one of her puppies and often licked her like she did her pups, and Nestle let her.  They have an understanding.
For all these years I have been trying to get a picture of Storm and Nestle "playing" but when they see me grab my camera, they stop.  It is as if photographic evidence of playtime would violate some dog/cat code of conduct.
Monday I was stuck at home waiting for the city to plow the street when finally I had my camera nearby and was able to snap a few pictures.  It was a bright sunny day and they were right in front of the window so the pictures are not the greatest, but at least I finally got some!
Have you heard about our give-away for a box of Sojos Big Dog Biscuits & Gravy baked dog treats?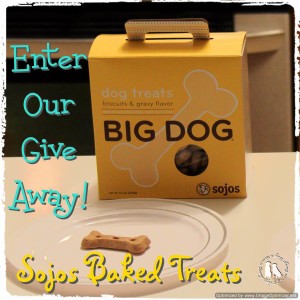 Check out our review, give-away details, and enter here.
This is the Thursday Barks and Bytes Blog Hop hosted by Heart Like A Dog and 2 Brown Dawgs.