Have you heard about the PawPals With Annie gift box?
It is the only doggie approved gift box for dogs.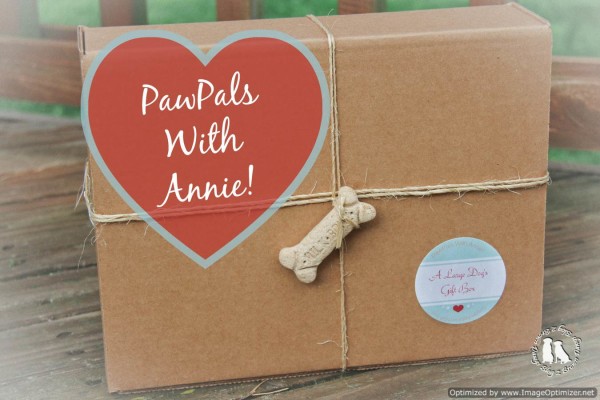 Each month Annie, a Scottie from Savannah GA, sends out gift boxes to all of her subscribers.  The box is filled with all natural, well-made, super strong, long lasting, premium dog goodies that are "paw selected" by Annie.
You may remember that the Brown Dawgs reviewed their first PawPals With Annie gift box back in April.  If you would like to read that review, you can see it here.
Thunder and Storm were anxiously waiting for their next box to arrive.  They requested a gift box for large dogs and sure enough, Annie sent one and addressed it to them.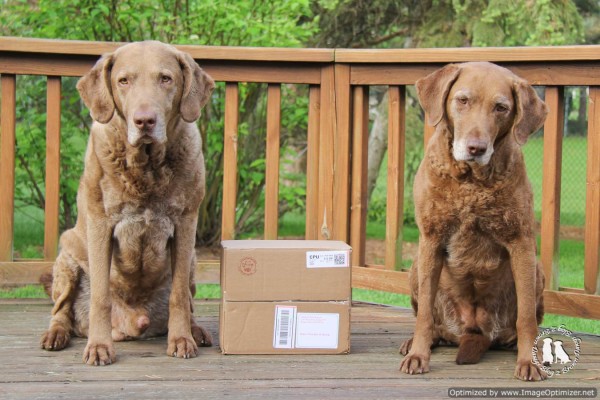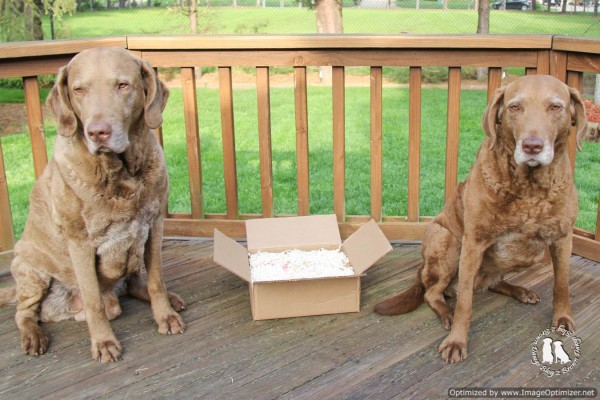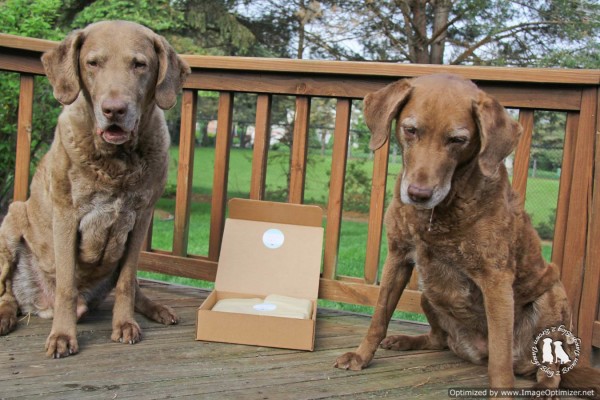 Storm was really hoping there would be yummy treats in the box and Annie did not disappoint.
This month's box contained:
Nylabone Dura Tug Toy
Kong Squeaker Air Tennis Ball
YumZies BBQ Duck Jerky Chews (Made in the USA)
Indigo Chicken Smokehouse Strips (Fresh, vacuum sealed and Made in the USA)
Come Clean Gentle Glycerin Soap Bar (Made in Canada)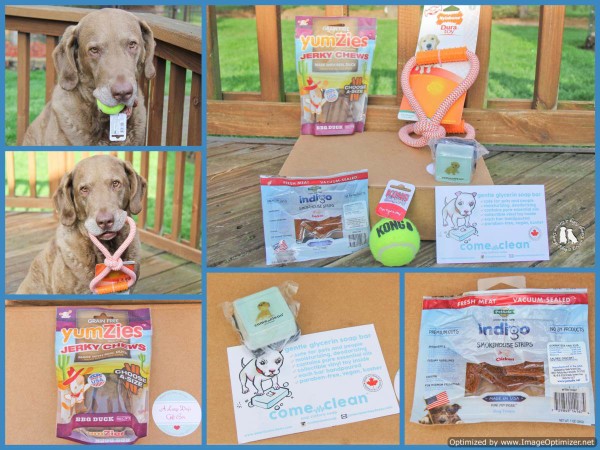 As soon as the box was opened, everybody claimed a favorite.
Thunder is a huge fan of tennis balls so he claimed the tennis ball even before I finished taking photos for the review.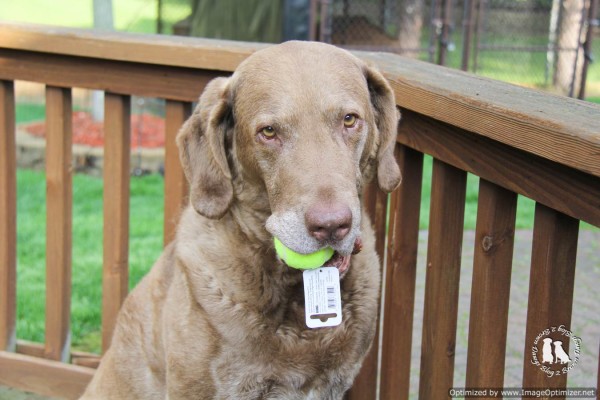 Storm needed a snack so she was fixated on the YumZies.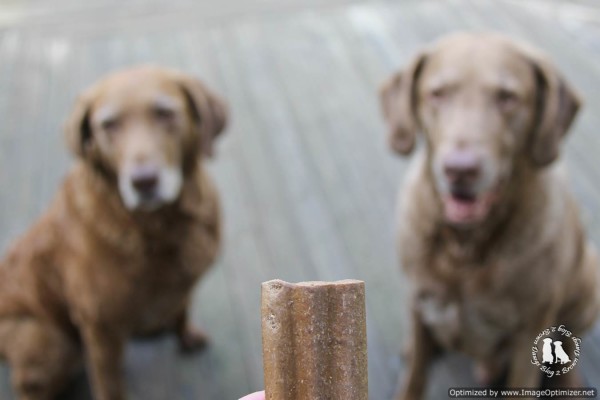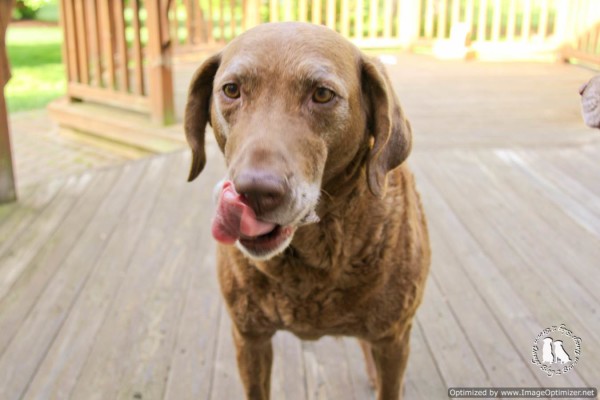 I snapped up the Come Clean Glycerin Soap.  It says it is safe for pets and people, but between you and me, I don't think I will be sharing it with the pets.  I love glycerin soap and this one is too cute to share.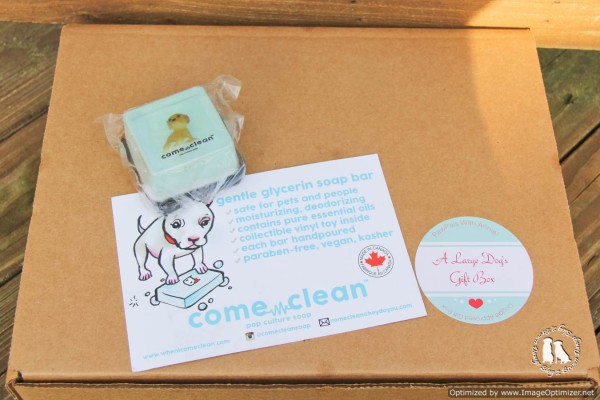 Freighter wanted everything in the box.  Typical youngster.  I think the Nylabone Dura Tug might be right for him.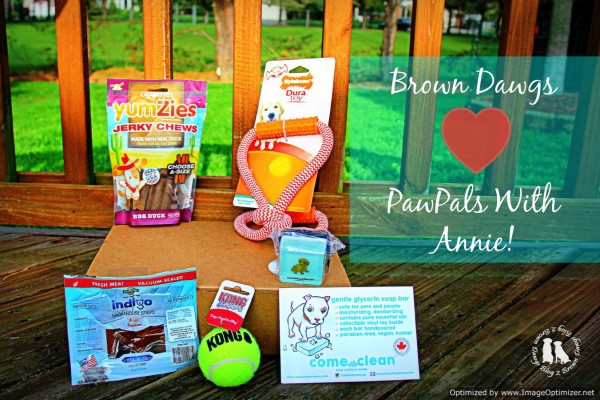 What I really like about the PawPals With Annie subscription box is that Annie picks out a unique mix of quality items.  Some are from brands that we know and trust.  Others are cool new discoveries.
The boxes are available in Puppy, Small, Medium and Large.   A one month subscription ranges from $32.95 to $36.95 (depending on the gift box size.)  For a 3-month subscription, you will save 10% on each month's gift box, and for a 6-month subscription, you will save 15% on each month's gift box.  Three and 6-month subscriptions are billed as a one-time payment at checkout.  Shipping is included in the price.
It is easy to order: Pick the size of box suited to your dog; the number of months that you want to subscribe (1, 3, 6); and tell Annie a bit about your dog including likes and dislikes.  Annie will do the rest!
Annie ships boxes every Tuesday and subscriptions do not auto re-new.
Interested in giving PawPals With Annie a try?  Use promo code "DogBox" for $5 off with free shipping.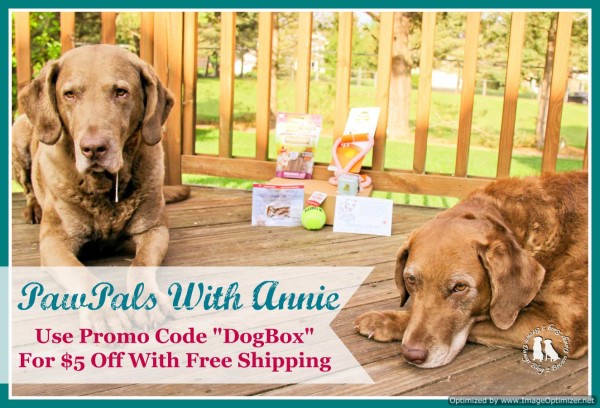 Find PawPals With Annie!