Storm and Freighter were out for some grouse hunting last Thursday.  It was an unseasonably warm day for early November.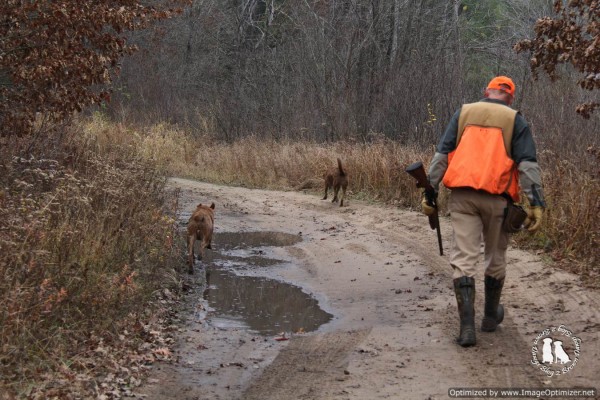 I left my coat at home and only wore a long-sleeved shirt and my hunter's orange vest and at times felt too warm.  We made sure to stop often to water and rest the dogs since they were working in cover where there was no breeze.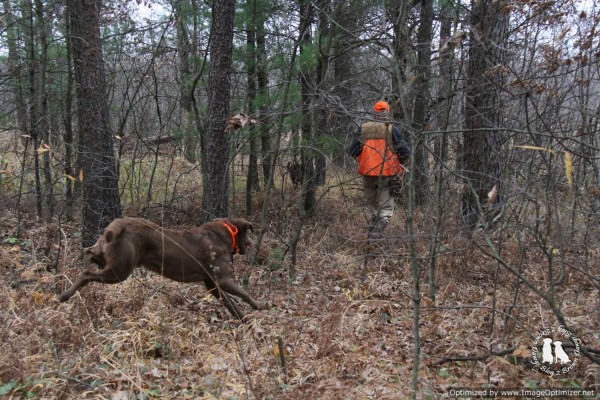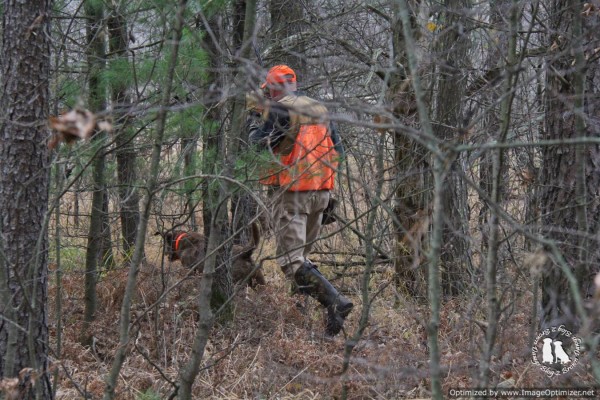 Right off the bat Freighter flushed a covey of three grouse and hubby got one of them.  Freighter marked it and retrieved it until Storm got to him and took it right out of his mouth.  The thief!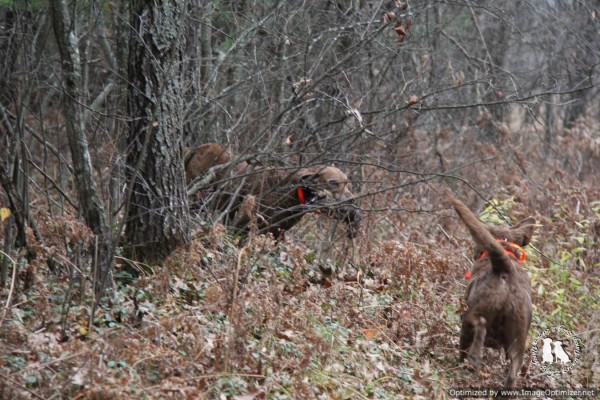 Freighter was a nice boy and let her have it.  I am not sure any other dog could have gotten away with doing that to Freighter.  He likes his birds.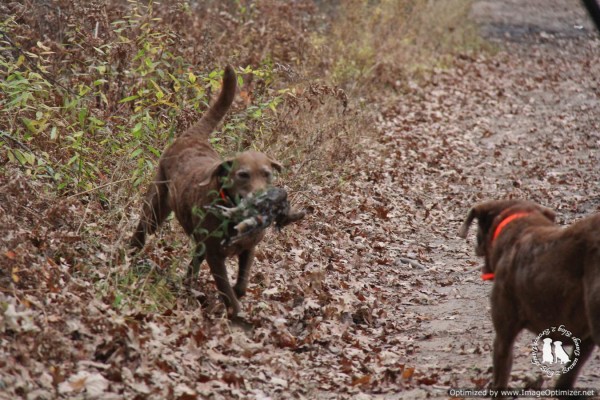 Hubby made sure to avoid trouble by calling Storm in and getting the bird quickly.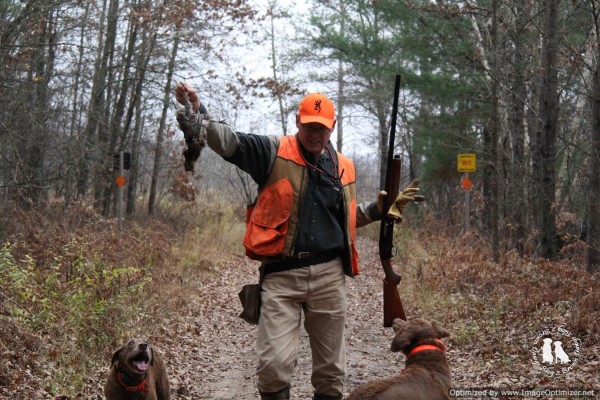 This bird was smaller than the one the dogs got a couple of weeks back.  It was probably a young bird.
Hubby and the dogs continued on.
Storm not wanting to be shut out of the fun got a bit ahead and flushed a bird too far away from where hubby was standing.  Freighter hunts nice and close.  He is really shaping up to be a good hunting partner.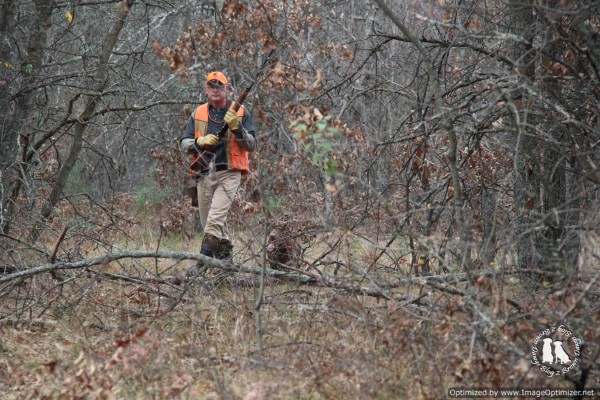 We made sure to get the dogs in water to cool them off because they were heated up.  There is a small stream on one side of a levee so rather than using the bridge, hubby and the dogs crossed the stream.  We need to be mindful of where we swim the dogs and where they hunt because trapping is also open and we would not want the dogs to end up in a trap.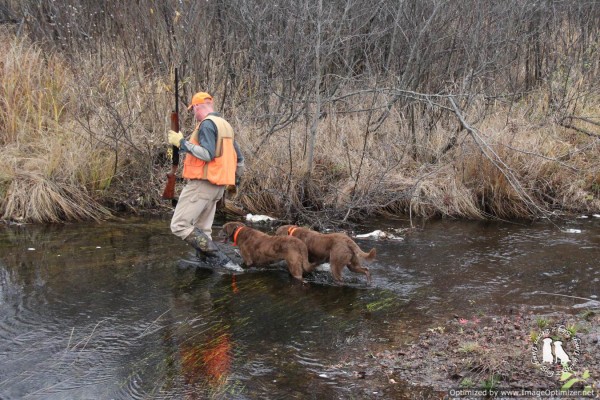 The dogs worked hard and ended up having 10-12 flushes, but there were some no shots and a couple of misses due to trees and branches being in the way.  The day ended with only one bird in the bag.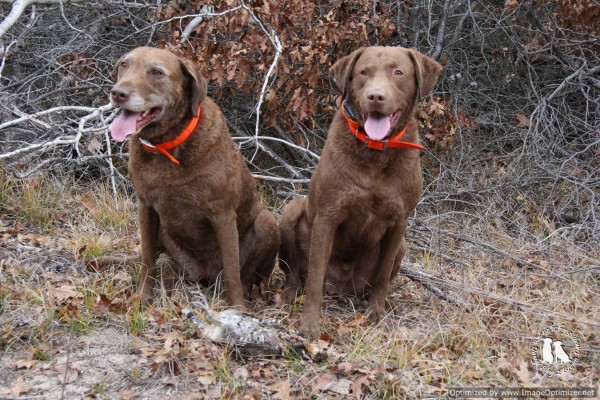 As a reward to Freighter for his hard work, hubby took him out by himself a couple of days later.  He had 13-15 flushes with two flushes of 4 birds at a time!  Unfortunately, hubby was not in position to try for most of these birds.  A second hunter would have been helpful to try for the birds as they cleared the trees or crossed the road.  Hubby was really hoping to get a bird for Freighter to retrieve, but it did not work out.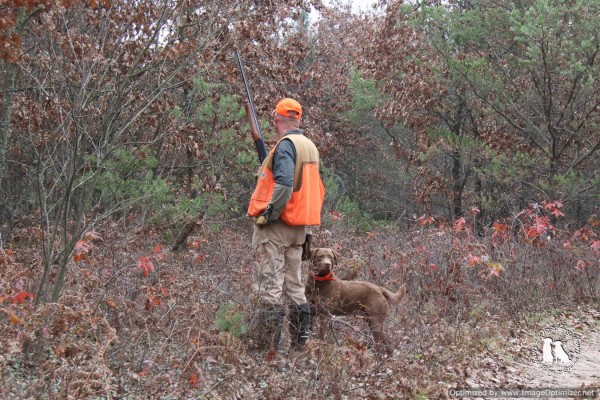 Next weekend grouse will close for firearm deer season and it won't reopen until December.  Whether the dogs get out again depends on how much snow we get in December.  So far this season was much better than last season because at least the dogs have had flushes.  These are young birds so it won't hurt to let them grow up and hopefully have a successful breeding season next Spring.
Note:  I appreciate your patience while I worked out the problems I was having with the blog last week.  It is back to my normal blogging schedule this week so look for new posts Monday through Friday with a Sojos giveaway beginning tomorrow.