A couple of weeks back, there was a story about a dog named Trigger who accidentally stepped on a loaded gun and shot its owner while they were waterfowl hunting.  Most of the news stories treated this accident in a joking manner because of the dog's name.  There is nothing funny about a hunting accident and luckily this time the injury was not serious.
Hunting accidents can happen. Sometimes the hunter is injured.  Sometimes the dog is injured.  Sometimes the accident is deadly.
While out hunting, the hunter should always think "hunting safety first" and practice safe gun handling to minimize accidents.  Sometimes it means missing a bird.  Sometimes it means not taking a shot.  No bird is worth injuring your dog or another hunter.
I am not a hunter but I have spent time out with hubby taking pictures while he hunts, and have observed his hunting safety habits.  I know there are many non-hunters who read this blog so I figured I would write a bit about hunting safety.
First when hubby is out hunting, the gun is unloaded while it is in the truck or any time hubby sets it down.  For example, if we decide to stop for a photo and hubby props the gun against a tree, it is unloaded. Even if he is holding the gun, if he is not hunting, it is unloaded.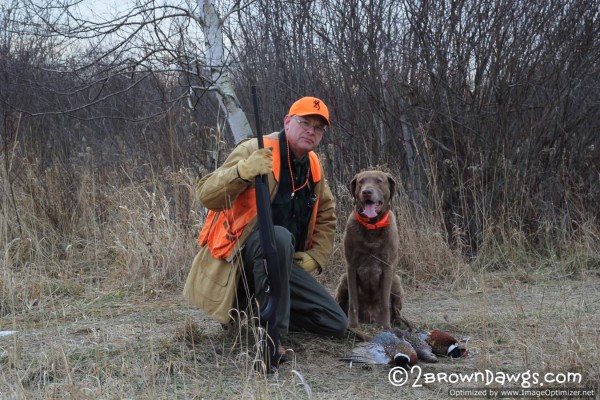 It is also unloaded whenever we are in the vicinity of our truck.  We would not be hunting near the truck so no need to leave the gun loaded.
But probably the most important thing safe hunters do is to leave the safety switch on the gun and their finger off the trigger unless they are actually shooting the gun.  This can mean that the hunter misses a bird when he only has a second to aim, take the safety off, and shoot at a bird, but safety should always be first.
Getting a shot can be particularly difficult when hunting thick cover like when we are hunting grouse and woodcock.  Not only must the hunter keep up with the dogs while moving through thick stands of trees or climbing over downed trees, but should the dogs flush a bird, then the hunter must try to set themselves, shoulder the gun (another thing that safe hunters do), take the safety off, and shoot at the bird in what might only be a moment.  This is the reason we normally have more misses and no shots while grouse/woodcock hunting than upland or waterfowl hunting.  If you have read some of my posts I might say the dogs had 12 flushes, but we only got one bird…being safe about taking the shot is usually the reason.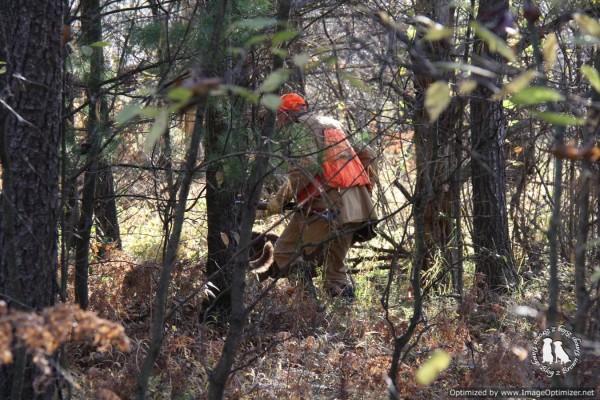 But even if hunters are not moving though heavy cover or are waterfowl hunting and staying in one place, they should always be mindful of the safety of their dogs.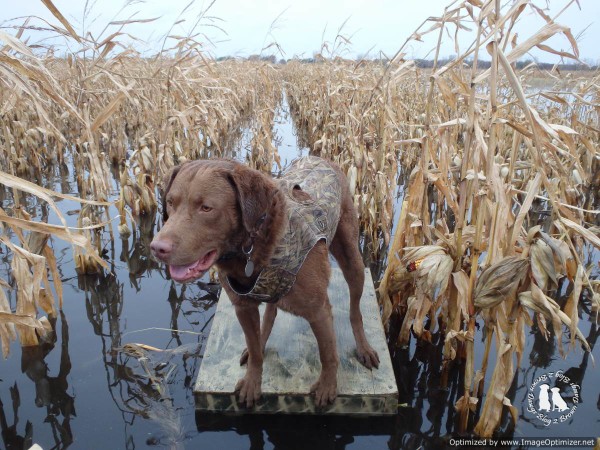 Sometimes the safest thing is to not take the shot or to hold a shot when the birds are not in a good position relative to other hunters or your dog.
This video is a good example of a bird getting away when it is running and ends up flushing too low and over Thunder rather than away from him.  Hubby holds his shot on the first bird and unfortunately, by the time it is safe to take the shot, the bird is too far away so it is a miss.  The second bird is not so lucky with a perfect, flush, shot and retrieve.
If the video won't play try here.
Most hunters are safe hunters and luckily hunting accidents are not common.  Hunter safety courses for young hunters with an emphasis on gun safety have helped to make the next generation of hunters safe hunters.