Get Your Gator
Today we are with world-famous gator hunter, Thunder The Great.  Thunder is hunting up some high protein grain free Bayou Biscuits from Blue Buffalo Wilderness and Chewy.com.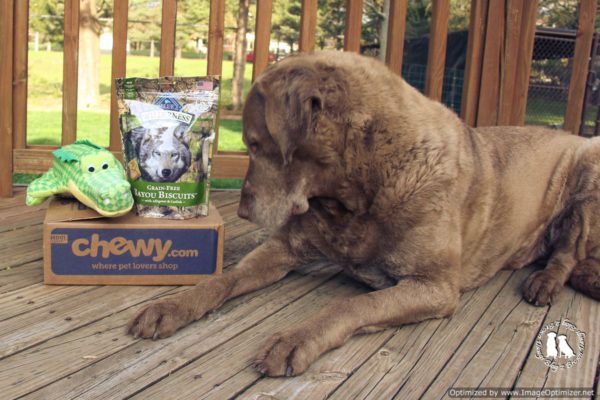 Bayou Biscuits Contain Exotic Proteins
Bayou Biscuits are made from high quality exotic proteins: real alligator, catfish and shrimp.
Ingredients: Alligator, shrimp meal, potatoes, chicken fat, flaxseed (source of omega 3 and 6 fatty acids), catfish, salt, calcium carbonate, preserved with citric acid and mixed tocopherols, oil of rosemary
These high protein treats are 100% grain and gluten free with no artificial preservatives, colors or flavors and have no corn, wheat, soy or chicken/poultry by-product meals.  They are a nice crunchy baked biscuit sure to drive the gator hunter in your house wild.
Thunder The Great vs. The Gator
World-famous gator hunter Thunder The Great could not wait to try these biscuits.  However before he could even open the package, along came Mr. Alligator hoping to grab a biscuit.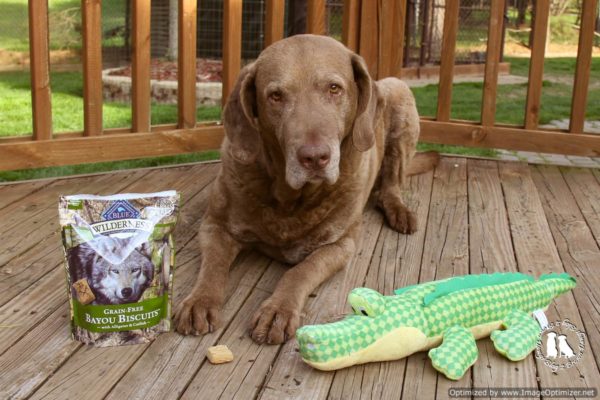 A small scuffle ensued but Thunder The Great  prevailed and grabbed the biscuit.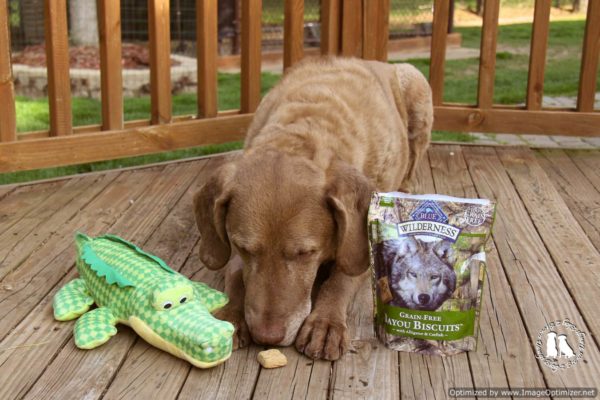 Bayou Biscuits are nose licking good.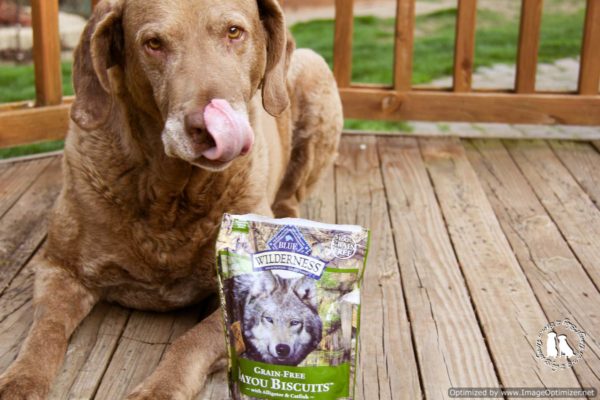 Score one for famed gator hunter Thunder The Great, Blue Buffalo Wilderness Bayou Biscuits, and Chewy.com.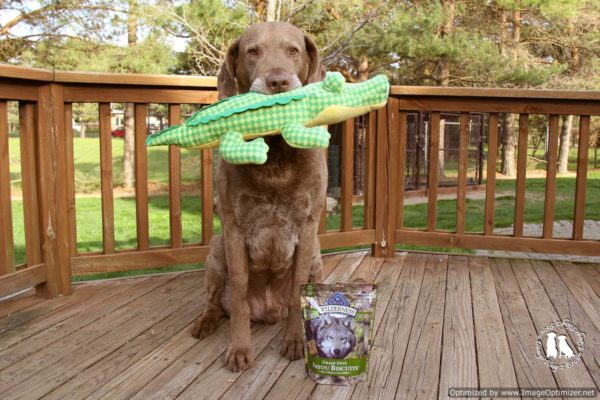 Get Bayou Biscuits At Chewy.com
I love that you can find a wide variety of foods and treats at great prices on Chewy.com.  I cannot find the same variety of food or treats at my local pet food store.  Unique treats like Blue Buffalo Wilderness Bayou Biscuits are just not available around here locally.  But the good news is that they are available at Chewy and they are on special this month for $4.79 per 8 oz. bag.  Ordering from Chewy.com is easy and you always get free 1-2 day FedEx shipping for orders over $49.  Shipping is just a $4.95 flat fee for orders up to $49 and you still get the same 1-2 day FedEx shipping.
So why not get your Gator today at Chewy.com?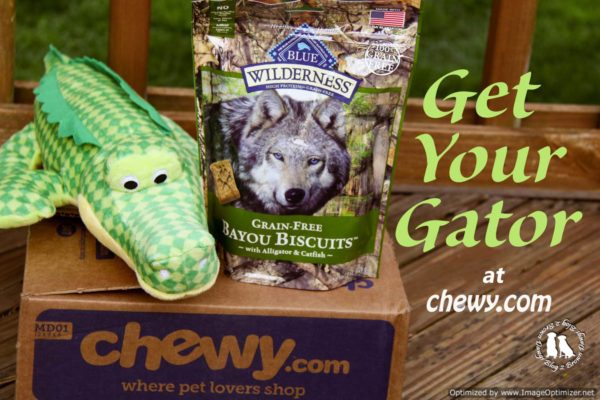 Review Disclaimer: The 2 Brown Dawgs Blog was provided a sample of the product to try in exchange for our honest opinion and review. We were not otherwise compensated. The 2 Brown Dawgs Blog is responsible for the content of this post.