Sunday we attended the American Chesapeake Club's Working Dog stake and Freighter earned his Working Dog Qualified certification.
The ACC Working Dog certification has been around for years, well before hunt tests came into existence.  It is one way to demonstrate a dog's field ability short of running field trials or hunt tests.  Today's hunt tests are based in part on elements of these certification tests.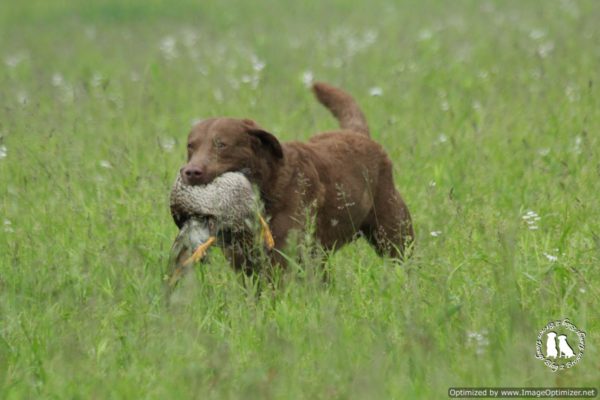 There are three levels: WD, WDX, WDQ.  Each level has a live shot flyer.  The people throwing the birds in the field are wearing white like they do at field trials so they are clearly visible.  Usually the birds are hand thrown.
The basic level is the Working Dog (WD) test.  This test consists of back to back single retrieves on land and water at reasonably close distances.  The dog does not need to be steady and the handler can hold their collar as the birds are thrown.  The dog must retrieve each bird to their handler, although they are not required to deliver to hand.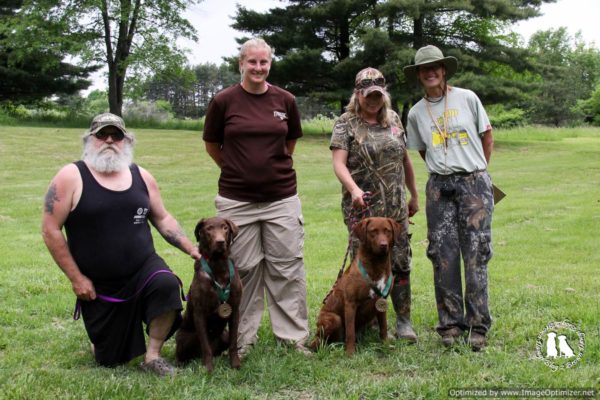 The next level is the Working dog Excellent stake, (WDX).  This is a double on land and water.  Dogs must be steady and deliver to hand.  Distances for these retrieves are a little longer than for the WD test.
The highest level is the Working Dog Qualified Stake (WDQ).  This is the level that Freighter ran on Sunday.  One series is usually double marks on land with a land blind.  The distances are longer than the WD and WDX stakes.  I think the longest mark Freighter retrieved yesterday was around 100 yards.  The other series is a combination land water triple with a land mark at 80 yards, a water mark at 40 yards and a water mark at 20 yards plus there is a water blind.  The dog must be steady and deliver to hand.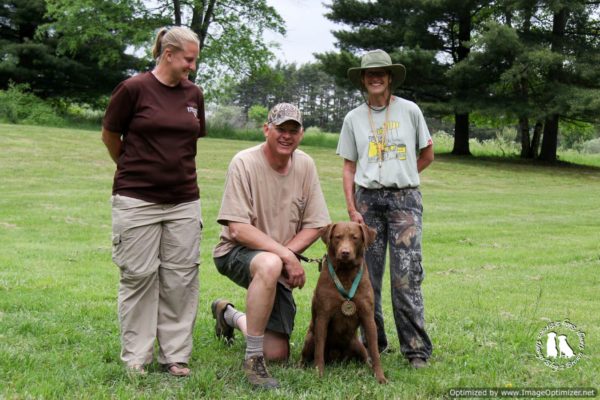 Hubby ran his first hunt test ever with Thunder 9 years ago at the very same property we were at on Sunday and that test had hubby hooked on hunt testing.  I remember it was pouring rain that day and Sunday we also had periods of heavy rain.  Despite the periods of rain, Freighter did a nice job on this test and earned his WDQ certification.  He is now CH SRR's Northern Gales Of November SH WDQ.
It was a fun day to get out and work Freighter in a different environment from the regular hunt test venues.  Thanks to the judges and workers and congratulations to all of the qualifiers.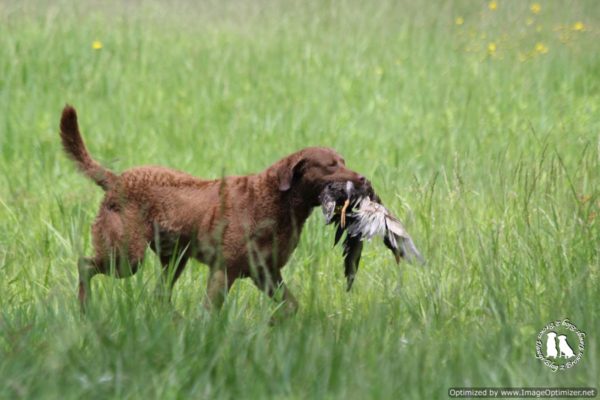 My next post will have details of Freighter's Working Dog Qualified test because the set-up was a bit different than other WDQ's I have attended.