Hunting season is right around the corner.  It is the time hunters wait for all year long.  They can get out and enjoy some quality time with their dogs.  Most hunters arrive home with wonderful memories and stories to tell.  However, each year some loose their hunting dogs when the dogs are separated from their hunting parties.   In honor of Lost Pet Prevention Month, here are 4 easy tips so there are no lost hunting dogs this season.
The 2 Brown Dawgs Blog is partnering with PetHub to help spread the word about Lost Pet Prevention Month.   While we are being compensated for this post, the 2 Brown Dawgs Blog is responsible for the content.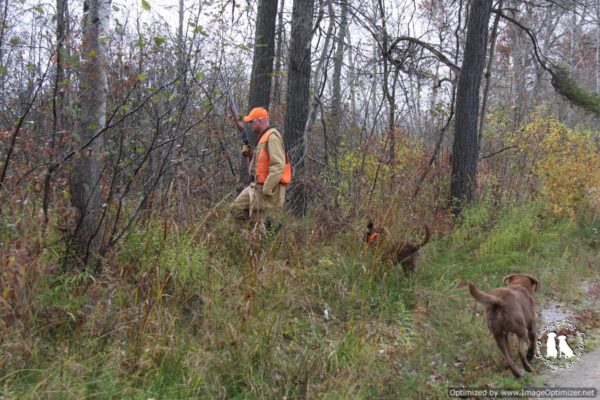 1. Train A Reliable Recall And Bring A Whistle
If your hunting dog has a less than reliable recall, start training right now to make it solid.  You just never know when the dog may be hot on the trail of a crippled bird and stray out of view.  If you are hunting in heavy cover, your dog may spend most of the day working out of sight.  It is important that your dog comes back when called each and every time.  At our house, recall is not negotiable.  It must be obeyed and it is something we practice all of the time.
Voice recall is great; however, there are times a dog may not be able to hear you calling them.  That is where a whistle comes in handy.  The sound of a whistle can carry farther than a human voice in the field.  From the time our dogs are young, they are taught to come to a series of short whistle blasts.  When you head out to the field or the marsh, do not forget to take your whistle.
2. Put A Light On Your Dog's Collar For Predawn Set-Up
Duck hunters are usually setting up in the pitch dark, or breaking down in the pitch dark.  As the light fades, it may be difficult to keep track of your dog.  Put a light on your dog's collar so they are easy to see.  Look for a waterproof light that slides onto a flat collar.
3. Make Sure Your Dog Has ID
When you head out for a day of hunting, make sure your dog is wearing a collar or identification tag with up to date contact information.  Cell phones make it possible for people to call you even when you are away from home.  Your cell phone number on a collar or a tag can help your lost dog be found that much quicker.
You may also want to consider a collar with a QR code.  PetHub offers a collar which can be personalized with your pet's name and your phone number.  A personalized collar or tag is great but PetHub also allows you to create an online profile for your dog with their picture, physical description, medical or behavioral information, microchip number, and most importantly detailed contact information including multiple phone numbers and multiple email addresses.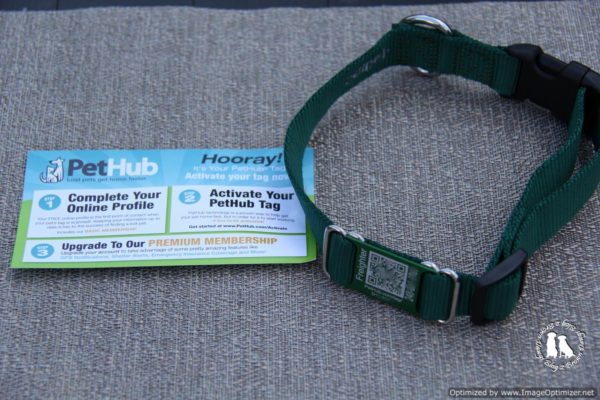 The QR code makes it easy for anyone finding your dog to simply scan the code on your dog's collar to get to their profile.  Once the person has accessed your dog's profile, they have all your contact information and can even send you GPS coordinates of their location.  Don't have a phone that scans QR codes?  Never fear.  The collar also has the web address to your pet's online profile.  PetHub also offers tags with QR codes.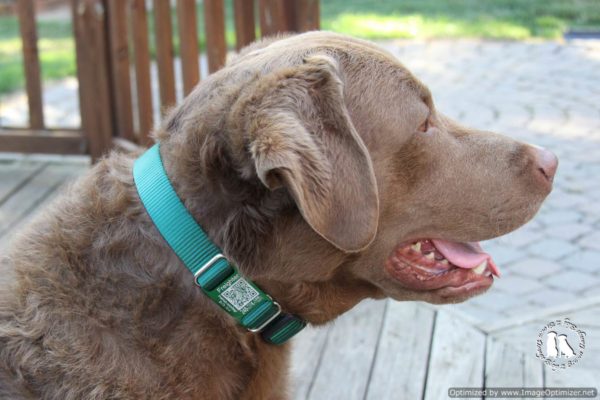 In addition to ID collars and tags, we also have our dogs micro-chipped.  A collar or a tag can be lost, but a microchip is permanent.  If your dog is chipped, make sure their profile is up to date, including contact information.
4. Consider Investing In A GPS Tracking Collar
No need to ever loose your hunting dog again if they are wearing a GPS tracking collar.  These collars allow you to always know your dog's location even if the dog is out of your sight.  There are several brands of GPS collars available.  The collar you choose should depend on the kind of hunting you do.
Want more specifics about GPS tracking collars?  Dog Product Reviews did a comprehensive review of the Garmin® Astro 320 GPS Collar last year.  This review is written by a hunter who was concerned about losing his dogs while out upland hunting in heavy cover.  The review gives a great overview of what to expect in a GPS Tracking Collar.
No Lost Hunting Dogs This Season
No one wants the heartache of a lost hunting dog.  So what are you waiting for?  Start planning now so there are no lost hunting dogs this season!