Freighter brought home a ribbon and his third Master Hunter pass this weekend.  He needs two more passes to earn his title.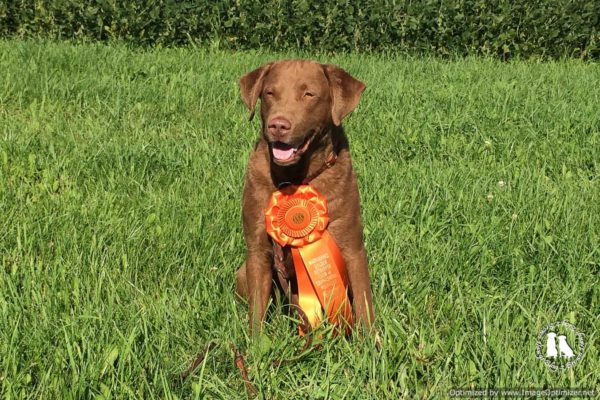 This was another difficult test.  In fact they dropped 22 out of 60 dogs in the first series alone.  The first series was a land triple, with a shot flyer and a double land blind in high cover.  The two right hand birds were fairly close together.  The dogs seemed to have trouble marking those two birds in the cover and I think there were only a handful of dogs who did not need to be handled to one of the marks.  Freighter was one of the dogs that needed to be handled to a mark.  There was also an honor in this series.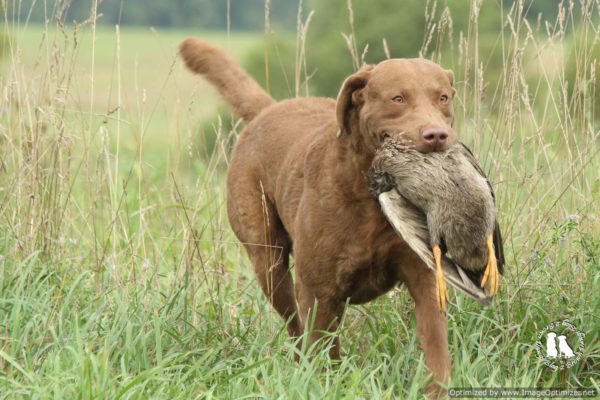 Freighter's second series was picture perfect.  It was a walk-up land water triple combination with two birds on land and one in the water.  It was an out-of order triple with the walk-up bird thrown to the left on land, and then the water mark to the far right, and then the go bird was thrown in the middle on land between the land and water marks.  There was also a diversion shot fired as the dogs returned from the water mark.  After picking up the marks, the dogs turned and did a long water blind that required them to go over a hump of land in the pond.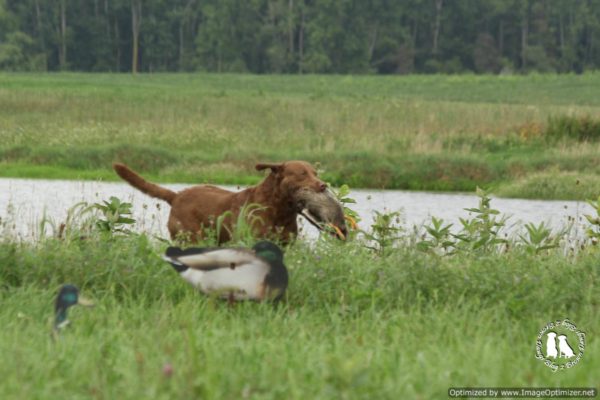 Freighter did not sit on the walk-up but it was clear that he was not moving from where he stopped walking.  We will continue to train to try to get that sit, but standing is acceptable and long as the dog stays put.  In his second Master Hunter pass, Freighter had trouble with both the out-of-order triple and the diversion shot, but this week, they did not cause him issues.  He did this series clean with a very nice water blind.
The third series was a water triple with two down the shore to the right and the third plunked in front of the dog to the left.  Freighter picked up the bird plunked in front of him and the bird to the far right fine, but Freighter's middle mark landed in the wrong spot in some tall thick weeds.  Since there was still a lot of dogs left to run, the judges said that hubby could handle Freighter to that mark because they did not want to call a "no-bird".  A "no-bird" is where something happens during the test like a winger malfunctioning or a mark falling in a bad spot.  If a "no-bird" is called, the running dog has to go around and start over and the test stops while they get another dog to pick up the all the marks, including the bad mark.  For this test it would have meant a lengthy delay.
Even being handled to that mark, Freighter had trouble digging it out because the weeds were so thick and there was not much wind to help the dog's nose.  Once the dog was in the weeds, the handler could not see the dog and Freighter popped out a few times so hubby sent him into the weeds in a different spot.  This is one time being a hunting dog, rather than just a hunt test dog, paid off because Freighter eventually dug that bird out.  After Freighter ran, they readjusted the winger.
Good job Freighter.  He earned his third Master Hunter pass.  Back to back tests can be a challenge even for the most seasoned dog, let alone a dog like Freighter whose excitement can get the best of him.  His heeling was not great by the third series, but he was steady and we are over-joyed that he kept it together to bring home back to back passes.  Because he was a good boy, he got to retrieve a lot of ducks over the last two weekends, (23 if my count is right).  That is more birds then he is likely to get during any two days of the hunting season.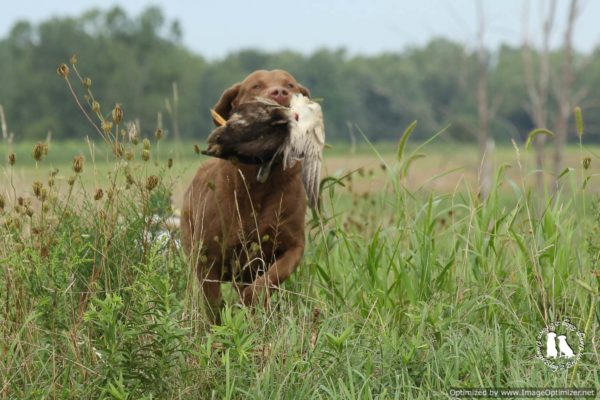 We have to decide if we want to travel out of state and run one more test this year.  Freighter is running well so it would be nice, but then again it will be hunting season so decisions, decisions.