We were able to get up to our cabin for the weekend.  The brown dawgs love being up there, especially this time of year.  They know Fall means lots of birds: grouse, woodcock and wood ducks.  Unfortunately, hubby is still on the sideline for this hunting season due to the surgery he had last month so the brown dawgs got to retrieve bumpers not birds.
Thunder is not happy about not being out hunting.  Of all three dogs, I think the lack of a hunting season is the hardest for him.  He has been hunting with hubby since he was a puppy.  He is 10½ years old so next year he may be too old for hunting in the thick cover we have up there.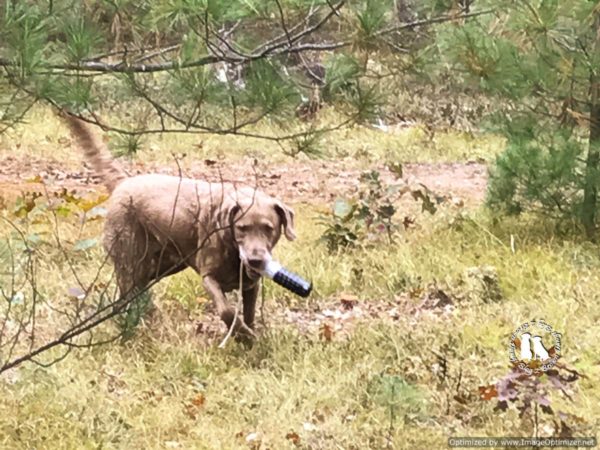 But even if Thunder is not out hunting, he still needs exercise.  We got out the training bumpers and threw a few for him.  We did not venture far from the cabin, but threw a few in an area with cover toward the back.  We didn't get much distance for him, but exercise is exercise.  I did not have my camera handy so these photos were taken with my new iphone 7 which has some different camera settings that I am still getting used to using.
Thunder is always ready to retrieve, but he was not happy about retrieving bumpers not birds.