Halloween is almost here.  Kids are busy picking out their costumes for trick or treating.  But what about your doggies?  Don't they deserve a special Halloween treat?  Of course they do.  Feed your doggies Mummy Morsels from Blue Buffalo!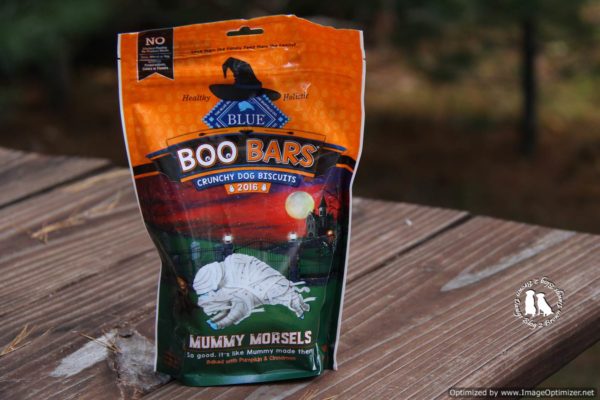 Review Disclaimer: The 2 Brown Dawgs Blog was provided a sample of Blue Buffalo Mummy Morsels to help spread the word that these seasonal treats are available at Chewy.com.  The 2 Brown Dawgs Blog is responsible for the content of this post.
Thunder got all dressed up as a mummy to bark about Blue Buffalo's Mummy Morsels.  These seasonal treats are baked crunchy and made with healthy ingredients like pumpkin, carrots, barley, oatmeal, flaxseed and cinnamon.  They are made in the USA and contain no corn, wheat, soy, or by-product meals.  Best of all they are on sale for $4.99 at Chewy.com!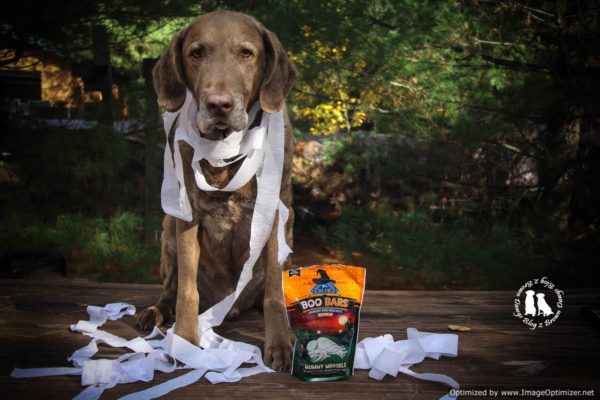 Perhaps you are thinking that it is too late to get these in time for Halloween?  Fear not!  (Get it?  "Fear" not.  A little Halloween reference.)  Chewy.com has free 1-2 day Fed-X delivery to the contiguous US for orders over $49 and 1-2 day Fed-X shipping for a flat rate of $4.95 for orders under $49.
Don't miss out!  Feed your Mummy doggie Blue Buffalo's Mummy Morsels from Chewy.com.  Thunder says they are frightfully delicious.