We've spent a quiet winter, but life with Chessies is never quiet so periodically I will be sharing tales from the homefront.
The weather this winter has been strange.  We have had snow, then it would warm up which made fog, then we would get ice, then wind.  It seems this cycle has repeated several times throughout January and the beginning of February.  I think the outside critters are a bit confused over the whole thing.  Case in point, this tale from the homefront which happened last month.
One evening after dark, hubby let Thunder and Storm out to do their business.  It was not late, but as is usual during winter, it was pitch dark.  Not just pitch dark, but it was also windy.
As soon as hubby let them out, Thunder and Storm tore off to the back part of the yard.  Hubby saw them huddled around something white and figured it was a piece of trash from one of the neighbor's that blew into the yard.  You see our neighbors cannot seem to figure out that if they put their trash out on a windy day and they do not cover it properly, it will blow around the neighborhood and usually end up in our yard.
Hubby did not want the dogs to eat whatever it was so he called them back.  It could have been a wrapper from some tasty delicacy.  Thunder and Storm were reluctant, but obeyed.  Hubby grabbed his coat and went out to collect the trash, only when he got closer he saw it was not trash at all, but a possum.  No kidding.  There was a possum just laying there in the back corner of our yard, in a neighborhood, in a city.  Hubby thought the possum was probably dead since it was not moving.  He put the dogs in the house and went back outside to deal with it.
By the time hubby got back to the spot, the possum was gone.  I guess when confronted by two hunting Chesapeake Bay Retrievers, possums know to play dead.
Moral of the story: don't assume all things that show up in your yard are trash and if you are a possum, don't try to sneak by two hunting Chessies, even in the pitch dark.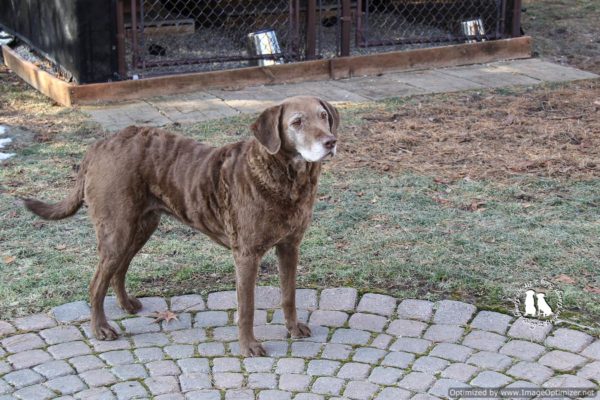 What has Freighter been up to?
He has been helping hubby on the homefront.  Or maybe just hitching a ride.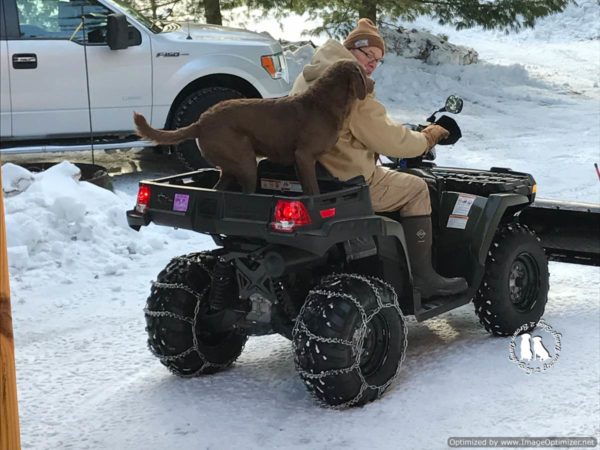 What have you been up to this winter?