You may remember that Nestle has had issues over the last year which include weight loss despite eating more than normal, increased stool and diarrhea, motion sickness when riding in the car and not always using her litter box.  She had blood work done three times over the last year and it was always normal, but the dramatic weight loss meant something was wrong so the next step was to make an appointment with a specialist (an Internist).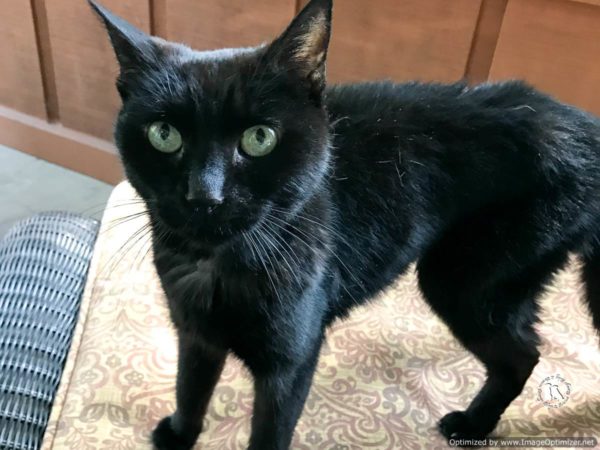 Unfortunately I had to wait about a month for the appointment with the specialist.  I had the option to go to the ER and seek treatment that way, but Nestle was always alert and active so I elected to wait for the appointment which was a couple of weeks ago.
Nestle Sees The Internist
The Internist examined Nestle and said it could be a few different things.  She felt it could be something as simple as a B12 deficiency, or an Irritable Bowel Disease, an issue with her adrenal gland or her pancreas, or cancer.  The vet suggested an ultrasound and additional blood work.  We also discussed the possibility of a biopsy, but I declined to go that route because if the ultrasound showed suspected cancer or an IBD, the treatment is basically the same.
Nestle would not cooperate and was too wiggly to have her tummy shaved for the ultrasound so they had to sedate her.  The ultrasound showed that she had mild-moderate thickening in he GI tract (stomach, duodenum, jejunum, colon) and some mild enlargement of lymph nodes.  In addition, there was evidence of chronic/historic pancreatic disease.  The adrenal gland was normal.  There were no obvious masses.
Based on the ultrasound, the vet felt it could be a low-grade lymphoma where the abnormal cells fill in the normal cells and cause the thickening or it could be pancreatitis or perhaps both things.  Blood was drawn for a GI panel that would measure TLI, PLI, folate and cobalamin (B12) levels.  The blood work would take about a week so Nestle was sent home with Metronidazole which is an antibiotic, antiprotozoal to treat possible imflamation, B12, Proviable which a probiotic digestive supplement, and Cerenia for nausea/motion sickness.
The Results Of Nestle's Blood Work
Nestle's blood work came back with normal folate and low but normal cobalamin (B12).  Both her TLI (Trypsin-Like Immunreactivity), and PLI (Pancreatic Lipase Immunreactivity) were elevated which is consistent with pancreatitis.  Pancreatitis is fairly rare in cats and there is not a specific therapy to treat it so for the time being we are going to continue Nestle's current medications and reevaluate in another week.  If she responds well, then we may continue the Proviable long term and perhaps change her diet.  In addition, we may add in prednisolone and Leukeran (which would treat IBD and/or low grade lymphoma).
How Is Nestle Doing?
Currently, Nestle seems to be doing a bit better.  She not eating as much of the dry food that I leave out for her all day long so she is not constantly in the litter box.  I also feed her soft food twice a day which she gobbles down so her appetite is still good.  I think she is digesting the nutrients in the food better.  She has put on a bit a weight which is a good sign.  She still needs to gain a lot more weight.  She weighed 4 pounds 12 ounces the last time she was weighed with he ideal weight being closer to 7 pounds.  Hopefully she will continue to gain weight.  I think her coat looks a bit improved as well.  It had seemed dull and dry, not the shiny pretty coat she had most of her life.  If you have dogs or cats, you know that the health of a coat can tell you a lot about the health of the animal.  Hopefully Nestle's coat will continue to improve.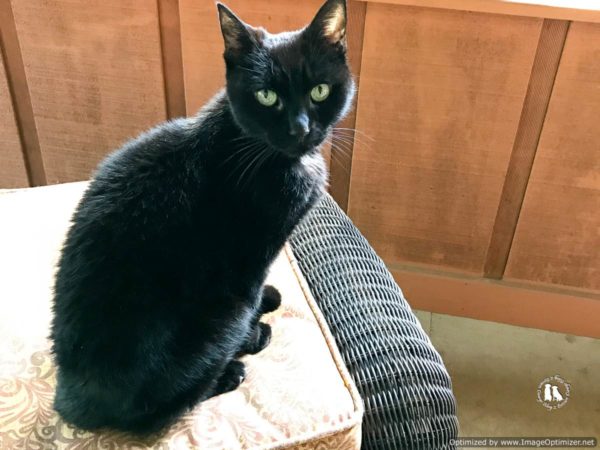 I had not been bringing her to our cabin for overnight stays because she was getting so sick in the car.  I used the Cerenia last weekend to bring her along and it worked like a charm.  No car sickness.  I think she really enjoyed being with us and we enjoyed having her.
I will update on Nestle if something changes with her.  Thanks to everyone who asked about how she was doing.  We really appreciate your concern and support.