Summer is just flying by and the brown dawgs are looking ahead to hunting season.
It is hard to believe but grouse season opens here in Michigan on September 15th.  That is just over a month away.  We have been busy trying to get some projects completed around the house now that Freighter's Master Hunter title is finished and we do not need to spend every weekend out training or testing.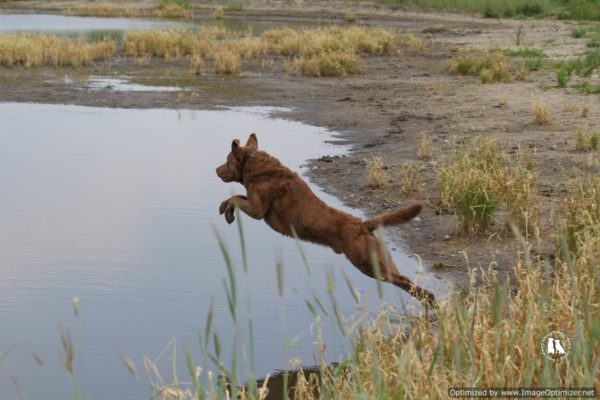 Freighter did make an appearance at a hunt test last month to run as test dog for the first series of one of the Master stakes.  The test dog runs the test so that handlers can see the set-up and if there are any glitches in the mechanics of the test, they can work them out before the first running dog.
After Freighter ran the first series of the Master test, he went over to the Senior stake where hubby was working.  There he was what is called a "pick-up" dog.  The pick-up dog retrieves birds (usually on water) if the running dog is unable to do it, say the running dog cannot come up with the bird so is NQ.  I was home with our senior dogs, but hubby tells me that some dogs had trouble with one particular water mark so Freighter got to pick that one up several times.  Freighter loved that.  Once he knew where  the bird was supposed to land, it was nothing to swim out to get it.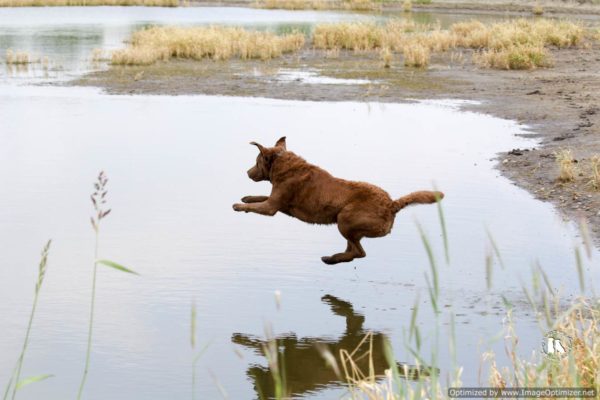 First bonus: he got to swim.  This dog loves water.  Second bonus: he got a bird.  This dog loves birds.
Which is why Freighter is looking ahead to hunting season.
Before it arrives, we really need to get the dogs out for some training so they are in condition for hunting season.  Hopefully the dogs will get out this weekend for some retrieves.
I do plan (hope) to get back to posting more regularly here.  I have a few topics I would like to comment on and with luck there will be some birds to share come hunting season.
Last but not least, I promised a photo of Freighter with his title ribbon.  Once I got the ribbon, I had to wait for a day which was not glaringly bright so I could get a decent photo.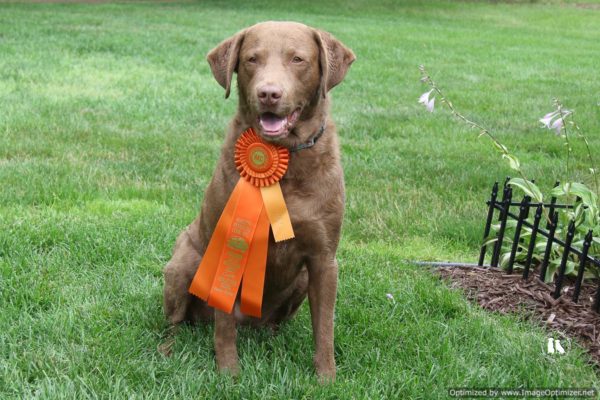 How have you been spending your summer?