Last week we headed out to the forest for a little grouse hunting.  We did not hunt this area at all last year.  Actually, the dogs did not get to do any hunting last year because hubby had surgery in September which pretty much ended hunting season before it began.
So the question of that day.  Would Freighter remember his job?
The area we hunt is a snowmobile trail that runs along a ridge that leads down to a lake.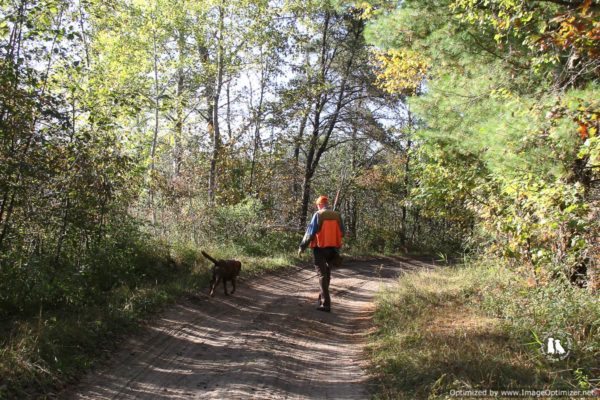 The first thing that we noticed was that the lake level was really low.  We had a fairly hot dry September and the lake looked it.  We did hear a lot of ducks quacking further out in the lake so the ducks must have been OK with the water.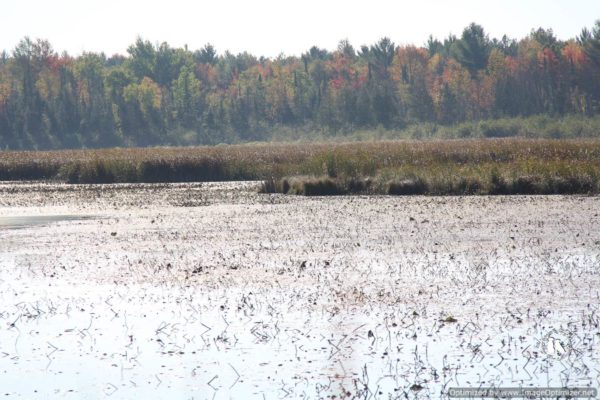 As soon as Freighter got to the trail, he went on a kind of point.  He is a flushing dog, but now and again he will stop and stand like a statue and "point" out the bird.  It looks like this: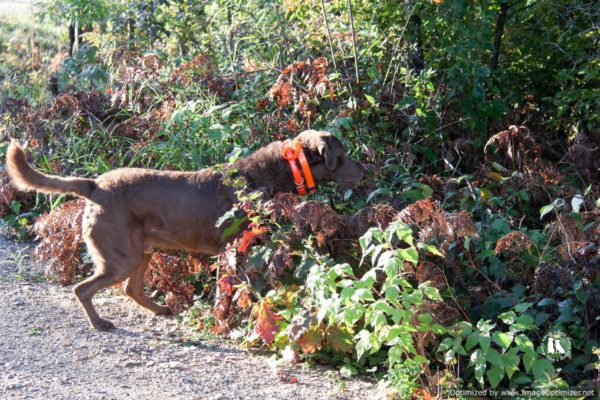 The trail is closed to atv's but open to cars which we rarely see, except that morning.  We had to wait for a car to pass by before we could begin.  Freighter was hunting an island of thick trees.  The side we were hunting is a walking trail.  The other side of the island is the trail that you can drive on.  It is a large island of trees but we held Freighter because we did not want him to break out to the other side with a car there and of course hubby would not be shooting birds with a car in the area.
Finally the car moved past and Freighter got right into the island and flushed a woodcock.  It was exactly where he had been pointing.  He has an excellent nose.  Unfortunately, the cover was too thick for hubby to get into the trees with him and the bird flushed in a direction which did not afford hubby a shot.  No retrieve for Freighter.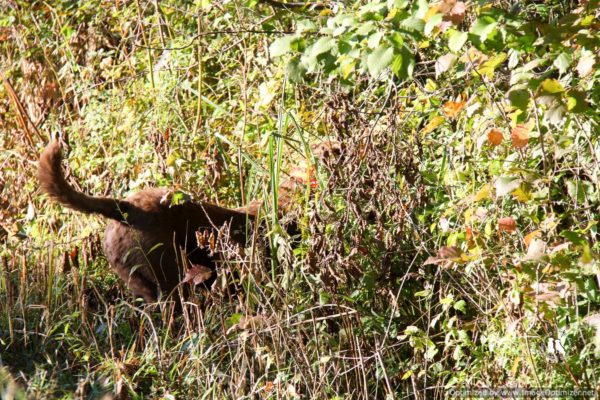 We continued on.  The cover was so thick that I could only snap pictures as Freighter emerged form it before he went back in searching for the birds.
Eventually Freighter got into a group of birds on the ridge and flushed three grouse at once.  Again, the trees were too thick for a decent shot.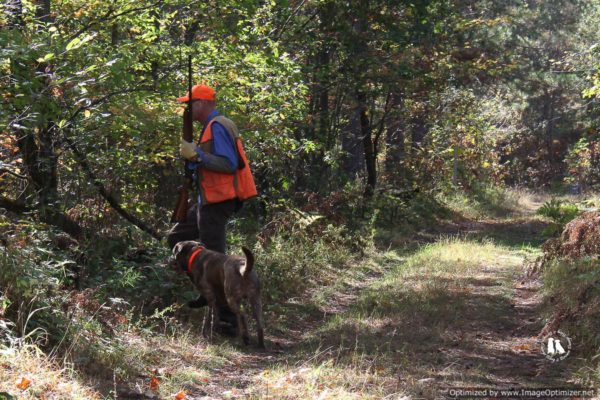 It was a warm morning.  We needed to stop to water Freighter often.  The problem was that while we brought water, we forgot the little bowl we use so Freighter had to drink from the bottle.  Not the best method.
As we moved farther along the trail, we heard someone calling with a predator call and a gunshot not too far off.  I guess someone was hunting nearby.  Maybe coyote.  Good for them.  Coyotes can decimate the bird and deer populations if they are not controlled.
We turned around and hunted off the other side of the trail.  Eventually Freighter had one more flush, a woodcock.  Then we heard some other hunters and a dog approaching.
What were all these people doing out there?  It was not the best day for hunting.
We packed up and left and will make sure to get there earlier next time.  Freighter had fun and worked hard, but was a little disappointed that he flushed 5 birds with no retrieves!  Hopefully next time.