Whether we are out hunting in the field or simply walking around our neighborhood, we are always looking for ways to make the brown dawgs more visible.  Today we are so excited to review the Dogglo™ LED Lighted Dog Collar.
Disclaimer:  The 2 Brown Dawgs Blog received a Dogglo™ collar in exchange for our honest review.  The 2 Brown Dawgs Blog is responsible for the content of this post.
The Dogglo™ LED Lighted Dog Collar is a safe way to make your dog more visible at night.  This light up collar can be easily recharged using the USB cable which is included in the package.  The collar is water-resistant and made from nylon with a metal D-ring.  It is available in 7 great colors (blue, green, pink, red, yellow, black, and orange) and comes in sizes XS to XL.  Each size can be adjusted smaller or larger for a perfect fit.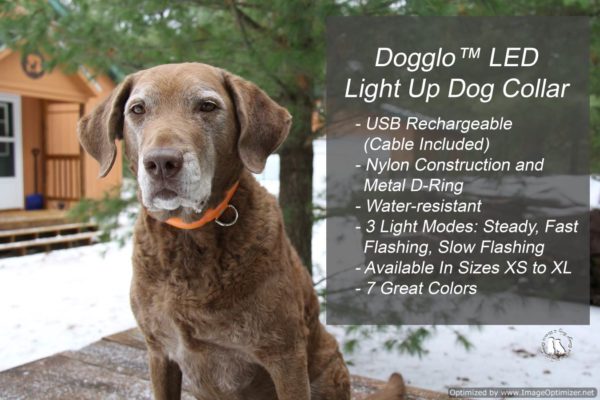 This are all great features for any collar, but the best part of the Dogglo™ LED Lighted Collar is how bright it is when you turn it on.  You can set it on steady light, fast flashing light or slow flashing light.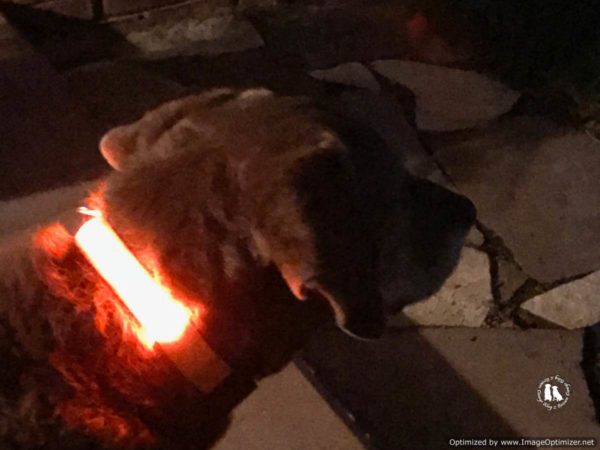 We have tried many different light up collars and collar attachments over the years because our dark colored dogs are nearly impossible to see at night.  This collar is by far the brightest one that we have used.  Plus it comes in orange which is a great color for daytime visibility.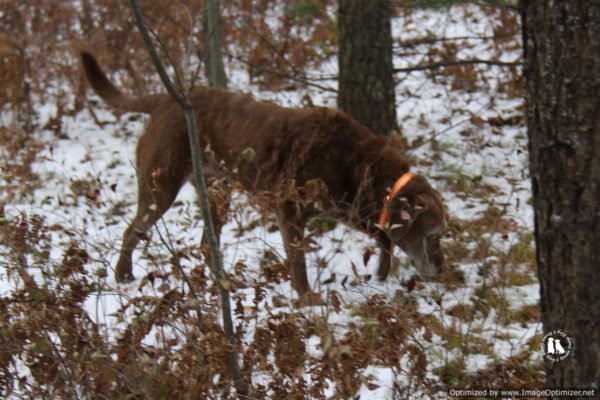 The collar closes with a sturdy plastic snap buckle.  The buckle on the collar we received was a bit stiff so keep that in mind if you have hand strength issues.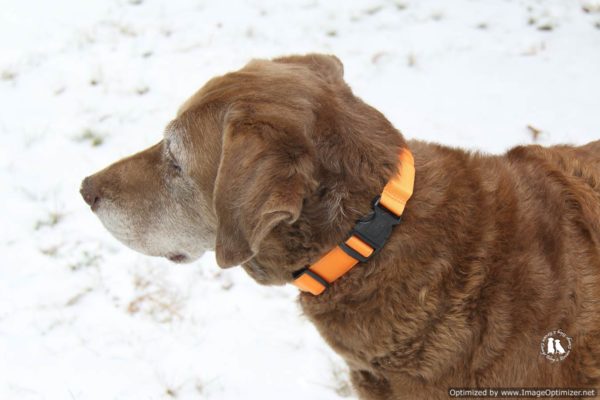 The D-ring is attached to the collar with the same nylon fabric that the collar is made from.  I like that the collar fabric is a lighter weight nylon, but I am not sure how well the D-ring would stay attached to the collar if you attached your lead to it and you have a strong dog that pulls.  We would just put on another collar to use when walking our dogs rather than use the D-ring.  If you have a smaller dog or one that walks perfectly on lead, the D-ring is probably sufficient.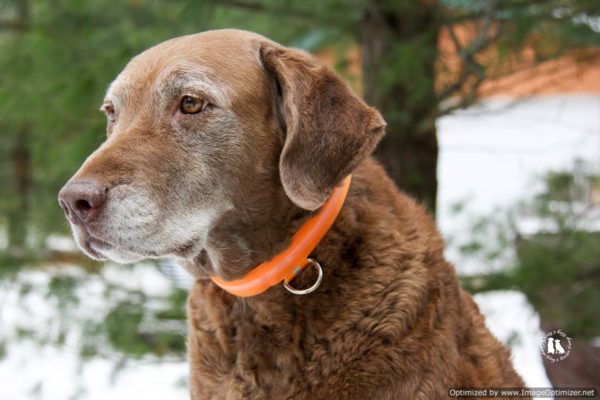 The collar we received is priced at $15 US and shipping is always free to US addresses.  In addition, Dogglo™ offers a 100% money-back guarantee.
The gift-giving season is coming and the Dogglo™ LED lighted dog collar would make a great gift or stocking stuffer for your favorite pooch!